Experience Argentina with On The Go Tours
Think Argentina and you're likely to conjure up images of wild roaming gauchos, world-class wine & steak and the sexy Tango, but the country's top natural attractions - the magnificent Iguazu Falls and the awe-inspiring Perito Moreno Glacier - demonstrate that Argentina is a land of remarkable variety.
Read More
Visit Buenos Aires, the Paris of South America, a vibrant city full of lovely green parks, plazas and wide boulevards. Take in beautiful Bariloche, a famous winter ski resort full of charming chalets & chocolate shops, surrounded by the towering peaks of the Andes. Chill out at Perito Moreno glacier and explore beautiful Fitzroy National Park, renowned for its magnificent scenery and trekking.
Discover the best of Argentina on one of our small group tours or tailor-made holidays in 2020 or 2021.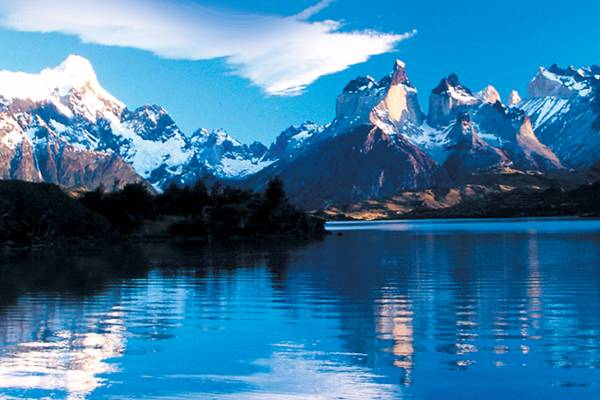 With the magnificent Iguazu Falls, the inspiring Perito Moreno Glacier, brilliant Tierra del Fuego National Park and plenty of charming villages in between, Argentina is a land of remarkable variety.
When we plan a Tailor-made holiday for you, our team of expert consultants will ask you about your travel plans and the sorts of things that interest you before putting together the perfect itinerary for you. Putting their first-hand knowledge to use they will select sites, activities and hotels to suit your every need ensuring your holiday is one of a kind. Make Argentina your destination for choice for 2020 and have a read of our best time to visit page to help decide when to go.
Argentina Day Tours and Excursions
Play cowboy for the day and sample some of Argentina's best wines with day tours now available in Buenos Aires and Mendoza.
Wine and Tango
Mendoza and Buenos Aires combined
Enjoy two of Argentina's best experiences with a visit to Mendoza, the wine capital of the country, and the alluring city of Buenos Aires for a taste of tango. Surrounded by vineyards and local bodegas offering tasting sessions, Mendoza is the best place to sample a glass of vino while Buenos Aires offers ample opportunity to catch a traditional tango show and dinner or simply hit the district of San Telmo where performers shake their tail feathers out on the streets.
Recommended Places to Visit in Argentina
From the seductive European-influenced cities to the gorgeous vineyards of the central regions with plenty of natural wonders at either end of the country, Argentina has more than enough reasons to make it your next holiday destination and here are our favourite reasons.
Capital city of the land that gave us tango and steak, Buenos Aires is a modern metropolis filled with European-style architecture and a distinctly Latin charm, which is utterly unforgettable. Visitors should explore this incredible city on foot in order to make the most of everything it has to offer including the historical Obelisco in the Plaza de la Republica. There are also dozens of different areas where shopaholics can get their fix, all of which range dramatically in style and price.
These powerful and majestic waterfalls, which stretch out through Argentina and Brazil, should not be missed by anyone passing through South America. Few places on earth can compete with Iguazu Falls with regards to showing, to its fullest extent, just what Mother Nature is capable of. There are plenty of lookout points from which visitors can get the perfect shot of the cascades. Alternatively, the falls can also be viewed by helicopter.
As the number one region for wine in all of South America, Mendoza draws in visitors from all over the world. However, this vineyard-filled region has a lot more to offer than just Malbec with fly fishing, horseback tours and excursions sampling the local gourmet cuisine just a few of the activities available to those who venture here. With snow-capped mountains in the background and colourful fields on the outskirts, it's hard to find a reason not to visit Mendoza.
Reminiscent of a Swiss ski town, Bariloche has the perfect combination of dramatic mountains, dazzling blue lakes and a thriving town, making it one of the top destinations in all of Argentina. Snow sports aficionados will find no lack of things to occupy themselves with during the winter season, while nature lovers can enjoy the plethora of leafy hiking routes available once the weather heats up. For some less strenuous activity, the local chocolate museum is a great way to spend an afternoon.
Literally translated at 'Land of the Fire', Tierra del Fuego spans through Argentina and Chile and is truly a land before time. In 1960 a portion of the area was declared a National Park and now has several different paths and trails, varying in difficulty, which visitors can follow in order to explore this rugged landscape in more depth. Most who choose to visit this region use the town of Ushuaia, the world's most southern city, as a base.
Iconic Experiences, Local Partners
On our Handpicked range we bring you the most iconic experiences in destinations where you'll join travellers from other travel brands on your tour, safari or sailing holiday. Collaborating with our carefully handpicked portfolio of local partners, these holidays represent exceptional value and there'll be plenty of cultural experiences shared with other like-minded travellers.
Group sizes and accommodation standards vary by destination where typical group size is 28 travellers and hotels, boats and safari lodges are of a 3-4 star standard.
Tailored To Suit You
On our Tailor-made trips, we give you the flexibility and choice to do things just the way you want, all alongside the great service we're famous for.
Whether you're travelling solo, with a partner, family, extended family or as group of friends we'll customise your arrangements to suit your exact needs and budget. Our Tailor-made trips are designed for your needs and you don't have to join other travellers like you would on a group tour. Just tell us what you'd like to see and when you'd like to go, and we'll design the perfect holiday for you.
The Tailor-made itineraries we've suggested are designed to give you an idea of what you could do with us, they can be booked as they are, or adapted to suit you. If you'd like to change any aspect of the trips you see, please get in touch. If you aren't quite sure of what you want to do, that's no problem either! One of our experienced travel consultants can make suggestions then together you can tweak until it's the perfect fit.
