Captivating Cambodia. Home to dense jungle, palm-fringed beaches and the iconic Angkor Wat. Experience it all for yourself with an award-winning group tour.
A true Southeast Asian adventure, Cambodia is a must for curious travellers. Whether you're roaming the ruins of ancient civilisations or enjoying the lively nightlife of Siem Reap, you'll fall in love with a country that never stops.

Our group tours dive straight into the heart of the action. From bustling night markets to lavish temples, our local guides know the real Cambodia. They'll masterfully uncover the country's tragic history and expertly lead you around the streets of Phnom Penh.

Because our Cambodia holidays win British Travel Awards for a reason - with our insider knowledge, we'll turn your tour into a once-in-a-lifetime adventure. From start to finish, we'll take care of the details, and handpick experiences that stay with you for a lifetime.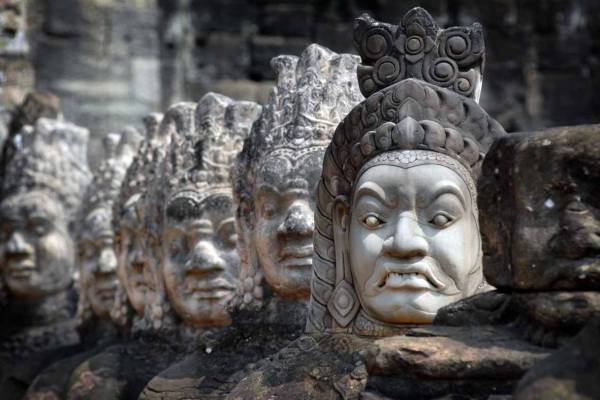 If you'd like to travel to your own tune, we can build a holiday to Cambodia around you. Whether you prefer luxury or no-frills, relaxation or adventure; our Tailor-made team will expertly select accommodation and experiences that suit you and your budget.

Click here to build your own trip.
Cambodia Day Tours and Excursions
Roam the relics of Angkor Wat. Immerse yourself in the history of Siem Reap. With our Cambodia day trips and excursions, you can make every second of your time count.
Cambodia tour reviews
Scoring an average traveller rating of 4.88 out of 5 based on 17 recent reviews — See All Cambodia Reviews
"
Everything we bargained for and more.
Everyone in our group commented on what an happy group ours was but for me this was all down to our guide Hung.To bring our group together the way he did was commendable,especially as we were all from different back grounds & nationalities.
The organisation was second to none and effortless for the group who really didn't lift a finger, I suspect Hung worked even harder when out of the groups sight especially with the situation of Covid 19. "
Kevin
• Submitted 1 Apr 2020
"
Amazing insight into Laos & Vietnam culture, country, people, food & history. Tour was cut short due to Covid 19 so we never made it to Cambodia. However the one thing to stand out during the holiday was the quality, professionalism and enthusiasm of our guide in Vietnam Mr Hung Do.
This was our second OTG tour in two years during which we experienced several guides and Mr Hung Do stands head and shoulders above the others. Unfortunately our holiday will always be remembered for the Virus, but right until we had to leave Mr Hung Do put his customers first and went out of his way to ensure our holiday was disrupted as little as possible.
I am a person who will always complain given half a chance, but on this occasion Mr Hung Do saved the day and I sincerely hope he and his family remain safe and well so that we can complete the tour with him when this is all over. "
Alan
• Submitted 31 Mar 2020
"
Fantastic worry-free tour
The tour was well thought out and the pace was perfect with just enough free time. All the hotels were in good locations so exploring was easy. The historic sites and activities were a good mix and delivered a sense of the country. "
Peter Parachnowitsch
• Submitted 26 Mar 2020
An adventure without the admin
Join us in Cambodia
Adventure without limitations. Travel without hassle. With On The Go Tours, the time-consuming details and logistics are taken care of for you. We fill each day of your trip with authentic experiences; so all you need to focus on is making memories with like-minded travellers.

And all of our group tours are ATOL and ABTA protected. So when you book with us, you can relax - from start to finish.
Highlights of our Cambodia holidays
Teeming with temples and vibrant cities, Cambodia is a country packed full of contrasts. And with our award-winning tours, you'll discover all of its secrets.
Tread the ancient realms of the majestic Angkor Wat and explore the jungle-clad Ta Prohm Temple. Find a tour.
Discover Cambodia's tragic history with a visit to the Killing Fields and the notorious Toul Sleng prison. Find a tour.
From the bustling streets of Siem Reap to the captivating Phnom Penh, our guided tours leave no stone unturned. Find a tour.
From the famous bamboo train at Battambang to the ancient temples of Wat Banan, Cambodia is a country where time stands still. Find a tour.
Exciting Days, Comfortable Nights
Our Signature group tours place local interaction and authenticity at the heart of your travel experience.
For our Signature range, we maximize your days with excitement and then bring you home to specially selected accommodation with extra character, convenience and comfort, whether that's a five-star river boat on the Nile or a traditional Japanese Ryokan. Accommodation in this range features comfortable western standards, air-conditioning, WiFi and, where appropriate, a swimming pool.
On a Signature holiday, you'll be escorted throughout your trip by our qualified English-speaking local guides who'll show you all the must-see attractions and even the lesser-known sights.
To further add to that special touch, the group sizes in our Signature range are mid-sized: small enough to be intimate, but large enough that you can bond with new friends over common interests.
Tailored To Suit You
On our Tailor-made trips, we give you the flexibility and choice to do things just the way you want, all alongside the great service we're famous for.
Whether you're travelling solo, with a partner, family, extended family or as group of friends we'll customise your arrangements to suit your exact needs and budget. Our Tailor-made trips are designed for your needs and you don't have to join other travellers like you would on a group tour. Just tell us what you'd like to see and when you'd like to go, and we'll design the perfect holiday for you.
The Tailor-made itineraries we've suggested are designed to give you an idea of what you could do with us, they can be booked as they are, or adapted to suit you. If you'd like to change any aspect of the trips you see, please get in touch. If you aren't quite sure of what you want to do, that's no problem either! One of our experienced travel consultants can make suggestions then together you can tweak until it's the perfect fit.
