Breathaking beaches. Gigantic glaciers. Enchanted forests. Lush lakes. Wonderful wildlife. Lively cities. An On The Go Chile Tour gives you everything. Scale volcanoes, delight in wine tasting in Santiago. Gaze at volcanoes, ice caps, and more.
Covering over half of the South American continent, Chile has it all. From the world's driest desert to the massive glacial fields of Patagonia. Magnificent snow-capped mountains, volcanoes, impressive geysers, and gorgeous lakes. In Chile nature and adventure combine. Add to that people, a world-class wine culture and colourful modern cities - and you have yourself an unforgettable experience.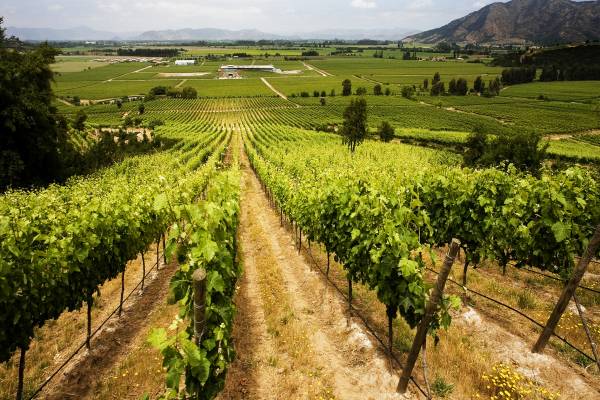 From the expansive Salar de Atacama salt flat in the North, to the vast glacial fields of Patagonia in the South and the dense forest and snow-capped peaks of the Lake District in between, Chile is a country of formidable contrast and beauty.
Whether you are looking for some inspiration or know exactly what you would like to see and do, our team of Tailor-made experts are at hand to help you create that perfect holiday to Chile in 2020, designed especially for you. Whether it's a love of outdoor adventure, local culture or luxury travel that gets you reaching for your passport, we will create a Tailor-made itinerary for you that ticks all your boxes.
Chile Day Tours and Excursions
Experience the best of Chile's capital city with sightseeing tours and wine valley excursions in and around stunning Santiago.
The Atacama Desert
The driest place on earth
The north of Chile is a vast expanse of parched lunar-like landscapes, epitomised by the Atacama Desert west of the Andes mountains. The rocky terrain is punctuated by salt lakes and eerie abandoned mining towns with wide-stretched and unbelievably clear skies. Ideal for stargazing when the dark descends. Discover this incredible scenery with our range of tours.
Recommended places to visit in Chile
The stunning sliver of a country that is Chile has enchanted explorers for thousands of years. Largely thanks to its staggering variety of landscapes. From the driest of deserts to the most perfect-looking of volcanoes and rugged mountains. Discover the best of Chile with our selection of top picks:
Comprised of dozens of thriving districts from the glitzy business areas to the more bohemian spots, Chile's capital of Santiago offers a diverse cultural landscape made even more appealing by the impressive natural backdrop of snowcapped mountains. It's also a city with its fair share of colonial architecture, interesting museums, vibrant markets and excellent restaurants.
Nestled within beautiful mountains in Chile's northern altiplano, the village of San Pedro de Atacama is the perfect base for exploring the numerous natural beauties that decorate the region; from the dazzling salt flats to the otherworldly Valley of the Moon and the hugely impressive Tatio Geysers. These incredible landscapes become even more remarkable when you consider that San Pedro has not seen a drop of water since records began.
The dramatic snow-capped mountains and brilliant blue waters of Torres del Paine National Park deserve a spot on any South American itinerary. The park sits in the southern region of the Andes mountains and is home to some of the most stunning hiking routes in the world, as well as a diverse selection of wildlife and a number of natural wonders including waterfalls and glaciers.
Situated in the far south of Chile, Punta Arenas makes the perfect base for intrepid explorers looking to venture in and around the Tierra del Fuego archipelago. The city itself is a lively place, the streets buzzing with activity, particularly in its giant tax-free shopping zone. Another must-see is the cemetery, often acclaimed as one of the most beautiful in the world.
Located on the coast in the far north of the country, the tranquil city of Arica enjoys sunshine year-round and is a popular resort with Chileans and their nearby Peruvian neighbours. It's here that you find the fascinating Chinchorro mummies which have been preserved for millennia and are now on display in the Archaeological Museum of San Miguel de Azapa.
Iconic Experiences, Local Partners
On our Handpicked range we bring you the most iconic experiences in destinations where you'll join travellers from other travel brands on your tour, safari or sailing holiday. Collaborating with our carefully handpicked portfolio of local partners, these holidays represent exceptional value and there'll be plenty of cultural experiences shared with other like-minded travellers.
Group sizes and accommodation standards vary by destination where typical group size is 28 travellers and hotels, boats and safari lodges are of a 3-4 star standard.
Tailored To Suit You
On our Tailor-made trips, we give you the flexibility and choice to do things just the way you want, all alongside the great service we're famous for.
Whether you're travelling solo, with a partner, family, extended family or as group of friends we'll customise your arrangements to suit your exact needs and budget. Our Tailor-made trips are designed for your needs and you don't have to join other travellers like you would on a group tour. Just tell us what you'd like to see and when you'd like to go, and we'll design the perfect holiday for you.
The Tailor-made itineraries we've suggested are designed to give you an idea of what you could do with us, they can be booked as they are, or adapted to suit you. If you'd like to change any aspect of the trips you see, please get in touch. If you aren't quite sure of what you want to do, that's no problem either! One of our experienced travel consultants can make suggestions then together you can tweak until it's the perfect fit.
