Where centuries of tradition meets the ultra-modern. Fall in love with China with On The Go Tours.
Majestic heritage. Unrivalled natural beauty. Eclectic cuisine. Remarkable culture.

A group tour to China is a truly unforgettable experience. Whether you wander the Great Wall or the city streets. Whether you stand before the green peaks of Guilin or the mighty Leshan Buddha. Or whether you visit the Xi'an terracotta army or the peaceful Chengdu pandas.

With On The Go Tours, you're in good hands. We've been running trips to China for over fifteen years. And we win British Travel Awards year on year.
Read More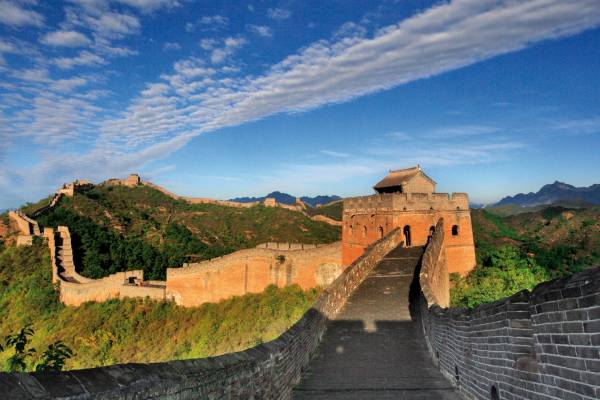 Tell us what's on your bucket list. And we'll make it happen.

We'll tailor your China tour to match the experience you're looking for. Whether that's a string of bustling city breaks, a holiday of history and culture, or an adventure through, over, and along China's vast and striking landscapes.

So what are you waiting for? Let's get your Tailor-made trip to China started!
China Day Tours and Excursions
Maximise your time in China's greatest cities with our range of day tours and activities in Beijing, Xi'an, Hong Kong and Shanghai with trips to the iconic man-made wonder that is the Great Wall.
China tour reviews
Scoring an average traveller rating of 4.51 out of 5 based on 61 recent reviews — See All China Reviews
"
We had an amazing time in China as part of this tour. Our tour guide and the local guides were friendly, helpful and knowledgeable. We explored the parts of China that had been on our list and so much more! Very easy to book with On the Go through our personal travel agent."
Daniel Hughes
• Submitted 17 Jan 2020
"
Just one amazing tour, thank you! Highly recommend."
Elizabeth Erasmus
• Submitted 14 Jan 2020
"
Our guide Feng is incredible. I cannot say good enough words. Feng was knowledgable, kind, funny, patient, helpful and kept us safe. Thank you Feng!"
Clancy Harm
• Submitted 7 Jan 2020
Frequently asked questions about our touring holidays in China
I want to visit the Great Wall - do you include this on your tours?
You'll get to see the world's most famous wall on most of our China holidays that begin or end in Beijing. And that's the vast majority of them. An afternoon is spent at the popular Badaling section of the wall and unlike many other operators, we also spend a night at a hotel right beside the wall. This means you get to revisit the Great Wall the following morning before the crowds arrive and enjoy views of the Juyongguan Pass from your hotel. If you're interested in knowing more about the different sections of the wall, check out our page on
visiting the Great Wall
.
Where can I see pandas in China?
The best place to see pandas in China is the Chengdu Research Base of Giant Panda Breeding. This non-profit facility is home to over 80 pandas and enables visitors to observe the monochrome bears at play. We have five different escorted itineraries that include time in Chengdu and a morning visit to the panda centre so you have a few options available if pandas are on your wishlist. For more information, see our
guide to visiting pandas in China
.
Do you have any China trips that start in Shanghai?
Yes we do. The majority of our China group tours start in Beijing and end in Shanghai but we also have two touring itineraries that operate in reverse - starting in Shanghai and ending in Beijing. The most popular is our 8 day
Shanghai to Beijing
tour. There's also a round-trip itinerary from Shanghai that covers the highlights of southern China. Browse our collection of China trips to find the one that's right for you.
I'm a second time visitor to China and I've seen the north already. What can you offer me?
If you've already visited Beijing and the Great Wall then you might want to consider China's scenic south. This region of China is famous for its iconic landscapes, holy mountains, lush rice terraces and delicious cuisine. We have two itineraries that focus solely on the south of China, kicking off in either Shanghai or Chengdu. We also offer
tailor-made holiday
arrangements in China and our expert team are on hand to help create your perfect itinerary.
How big are your tour groups and what is the age of your travellers?
Our average tour size in China is 18 travellers and you can expect an interesting dynamic with people from all walks of life. And this includes a wide range of ages from the mid-20s to the early 70s. The average age is somewhere between 35 and 55 years of age.
What is the standard of hotels on your Signature tours?
You'll be staying in comfortable, Western-style 3-4 star hotels with good sized rooms and modern amenities. Our hotel beside the Great Wall is a little more simple but what the hotel lacks in facilities it more than makes up for with its location and views of China's most impressive man-made structure.
What sort of transport do you use on your Signature tours?
You'll get to sample a range of transport modes on our China holidays, from bicycle rides along ancient city walls to rickshaw rides through Beijing's most historic districts. There's also the chance to cruise along the Huangpu River in Shanghai and the pretty canals of Suzhou. For road transfers we use private A/C vehicles and for longer journeys we use comfortable overnight soft sleeper trains in private four-berth carriages. See our
Top Travel Tips
page for more details on sleeper trains in China.
When is the best time to visit China for general sightseeing?
The spring months (March - May) and autumn months (September - November) are considered the best time to visit China. During these seasons the weather is generally dry and temperatures not too hot nor too cold. The skies are also clearer with less smog in the cities and lower rainfall. You can find more detailed information, including climate averages, on our
best time to visit China
page.
Want even more from your China tour?
Private Tours of China and Short Stays
Want a trip to yourself? No problem. We can tailor your exclusive tour of China - and provide helpful local guides at each port of call. Want to extend your adventure, or just have a few spare days? Our city breaks help you see the main sights in a short space of time, allowing you to make the most of your trip to China.
China: make every second count
Your Chinese adventure awaits. But where will your tour take you?
China's landscape is as diverse as its culture. And it's world's away from home. From the depths of the winding Yangtze River, to the striking heights of Guilin, Yangshou, and Huangshan.
The legendary Great Wall. The towering Leshan buddha. The mighty Xi'an army of terracotta warriors. Marvel as millennia of history and culture unfolds before your eyes.
Explore meandering streets of Beijing, Shanghai, and Hong Kong. Where ever-evolving skylines hide must-see sites of culture, untouched pockets of nature, and oodles of culinary delights.
A diverse cuisine with tastes from all four corners of China. Captivate your taste buds with traditional dishes, sumptuous street food, and daring bites of eccentric delicacies.
Exciting Days, Comfortable Nights
Our Signature group tours place local interaction and authenticity at the heart of your travel experience.
For our Signature range, we maximize your days with excitement and then bring you home to specially selected accommodation with extra character, convenience and comfort, whether that's a five-star river boat on the Nile or a traditional Japanese Ryokan. Accommodation in this range features comfortable western standards, air-conditioning, WiFi and, where appropriate, a swimming pool.
On a Signature holiday, you'll be escorted throughout your trip by our qualified English-speaking local guides who'll show you all the must-see attractions and even the lesser-known sights.
To further add to that special touch, the group sizes in our Signature range are mid-sized: small enough to be intimate, but large enough that you can bond with new friends over common interests.
Tailored To Suit You
On our Tailor-made trips, we give you the flexibility and choice to do things just the way you want, all alongside the great service we're famous for.
Whether you're travelling solo, with a partner, family, extended family or as group of friends we'll customise your arrangements to suit your exact needs and budget. Our Tailor-made trips are designed for your needs and you don't have to join other travellers like you would on a group tour. Just tell us what you'd like to see and when you'd like to go, and we'll design the perfect holiday for you.
The Tailor-made itineraries we've suggested are designed to give you an idea of what you could do with us, they can be booked as they are, or adapted to suit you. If you'd like to change any aspect of the trips you see, please get in touch. If you aren't quite sure of what you want to do, that's no problem either! One of our experienced travel consultants can make suggestions then together you can tweak until it's the perfect fit.
