Whether you're sailing the sparkling sea or roaming the medieval streets, Croatia will take your breath away. Discover Croatia for yourself on one of our award-winning holidays.
There's a reason Croatia is fast becoming the hot spot of Europe - and it's not just the lure of Game of Thrones. From spectacular scenes of natural beauty to a fascinating ancient history, Croatia is more than just a sunny beach destination.

Medieval fortresses stand proud in Dubrovnik, while waterfalls and blue lagoons await in the national parks. Picturesque islands dot the stunning coastline, while a bustling city thrives within the walls of Split. On our Croatia group tours, we cut no corners. We dive into this diverse country, leaving no stone unturned.

Our sailing holidays explore the beauty of the Croatian islands. Our cycling tours give you the chance to stray from the beaten path with like-minded cyclists. Whichever tour you choose, there's one thing you can expect - and that's the unparalleled quality from our expert guides.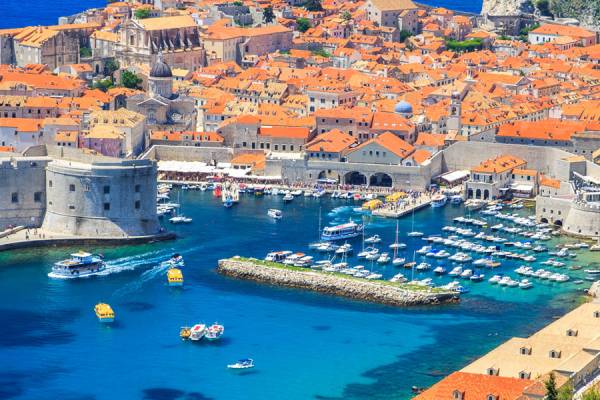 A Tailor-made holiday to Croatia, built around you. Beachside or cityscapes, luxury or adventure; no matter what you want to experience, our expertise means we can pick hotels and destinations that suit you. With your budget and timeframe in mind, we'll design a Croatian holiday you'll never forget. All you need to do is enjoy the ride.

Click here to build your trip.
Croatia Day Tours and Excursions
Explore the backdrop of Game of Thrones and get that snap in the Iron Throne. Visit the famous Plitvice Lakes and bathe in the crystal clear natural pools. Whatever you're hoping to experience, our Croatia day tours and excursions make it possible.
Croatia tour reviews
Scoring an average traveller rating of 4 out of 5 based on 3 recent reviews — See All Croatia Reviews
"
All went as planned, the guide and boat Leonardo very good. Crew were excellent. Few points. Could have done with more specific information as to where to check in at Split seaport. Also the cabin we had was below decks, which we knew it would be, but what we didn't know was that it was by the propellers so it was really noisy. I left the cabin at 6am in the mornings when the engines started and went above (to watch for dolphins...which I actually saw). Think you should in the future make clients aware of the noise in the stern cabins. We also had noise on one occasion from the bar which was directly above us. These points did not spoil our holiday but if we ever go again we would only do so if we had an upper deck cabin.
We independently booked two apartments in Split which we would thoroughly recommend, Suzy Apartments and the Ark Beach Hotel at Strobec."
Paul Evans
• Submitted 8 Oct 2019
"
Relaxing tour with plenty of sights to see, a tour leader full of information and friendly, great staff, fantastic itinerary and good food."
Franco Artuso
• Submitted 30 Aug 2019
"
Really really loved the tour everywhere we stopped was amazing and had a really amazing tour guide who had such love and knowledge about the country. We had plenty of time to explore by ourselves as well. The crew on board were amazing ecspecially the cooks who went above and beyond what I expected it to be "
Rhiannon Smith
• Submitted 24 Jul 2019
Frequently asked questions about our touring holidays in Croatia
What island-hopping itineraries do you have?
The most popular way to explore Croatia is by boat, sailing between islands to explore picturesque port towns and coastal cities. We offer a number of popular sailing itineraries that start in either Split or Dubrovnik and cover the best-known islands including Hvar, Brac and Mjlet. If you prefer to spend longer on terra firma, we also offer an
8 day itinerary
that travels between islands by ferry with nights spent in hotels.
What choice of boats do you offer?
On our Croatia sailing holidays you'll have a choice of standard or comfort boats with some named boats on certain itineraries. Standard boats provide mostly twin bunk cabin accommodation while comfort boats provide more spacious twin or double bedded cabins. Both types of boat come with en suite cabins. On our Creme de la Croatia tour you can cruise on a premium vessel with extra services included in the tour price. For more information on what to expect of our ships, read our page on
Choice of Sail Boats in Croatia
.
Which is best - an on-deck or below deck cabin?
This really depends on your own personal preference. The on-deck cabins have windows that open so you can enjoy the cool breeze and not have to rely on air-conditioning. They also offer better views. However, their location does mean that it's noisier with other passengers and crew walking around the deck. When boats are docked, other ship passengers may also be passing along the deck of your boat. Whereas the below deck cabins are much quieter as there's not the same footfall. These have portholes for natural light but they cannot be opened. Below deck cabins are cheaper so a better option for those on a budget.
I want to get off-the-beaten track in Croatia. What's the best trip for me?
Croatia is a sought-after travel destination and the most popular destinations can get very busy with visitors during the peak summer months. If you're looking to escape the crowds, consider exploring Croatia's northern coastline and islands with our 8 day
Onboard at Opatija
sailing holiday. There's historic towns and beautiful beaches to discover with an appearance very akin to the highlights of the south. Alternatively, explore the Istria peninsula by bike with our 8 day
Cycle Croatia
holiday.
I would rather explore Croatia's mainland. What would you suggest?
If sailing isn't your thing, there's plenty to discover away from the water. Croatia's mainland is home to gorgeous old towns and stunning national parks. We have a range of escorted group tours and semi-independent itineraries that cover mainland Croatia as well as neighbouring Slovenia, Montenegro and Bosnia & Herzegovina. Please browse our full range of tours or contact our reservations team.
How big are your Croatia tour groups and what is the age of your travellers?
If you've opted for a sailing holiday in Croatia, the maximum group size is around 36 passengers with 18 cabins generally on each boat. In the shoulder seasons it's likely to be a smaller group size around 20-25. On our mainland tours the average group size is between 10-15 passengers. Croatia sailing trips attract a real range of ages from those in their late 20s to those in their 60s. However, you won't find any 18-30 style cruises here.
I want to make the most of Croatia's islands. What time of year would you recommend I visit?
The sailing season in Croatia officially begins in mid-April and runs through to mid-October. However, April and May sometimes bring harsh, chilly winds, which can bring the temperatures down. It's not always the ideal time for swimming so to really get the most out of an island-hopping adventure, visit between June and September. Though beware - this is peak tourist season so expect crowds.
Hit the road
Experience Croatia by bike
Croatia has long been considered the perfect sailing destination thanks to the thousands of stunning islands in the Adriatic. But the mainland has just as much natural beauty to offer and one of the best ways to enjoy this scenery is by bike. You can do just that with our 8-day Cycle Croatia tour, which takes in the highlights of the Istria Peninsula, from medieval settlements to wineries and a whole lot more.
Highlights of our Croatia tours
With an emerging food scene, stunning islands and blissful beaches, Croatia is fast becoming a must-see destination. And it's no wonder...
From the medieval walled city of Split to the Roman fortresses in Dubrovnik, discover ancient buildings of times gone by. Find a tour.
Bathe in the crystal waters of the Plitvice Lakes National Park, surrounded by dense forest and waterfalls. Find a tour.
The beaches of Brac and Hvar are something to write home about. Relax and take a dip in the sparkling Adriatic sea. Find a tour.
From the narrow streets of Korcula to the stunning forests of Mljet. Croatia boasts stunning island scenery, just waiting to be discovered. Find a tour.
Iconic Experiences, Local Partners
On our Handpicked range we bring you the most iconic experiences in destinations where you'll join travellers from other travel brands on your tour, safari or sailing holiday. Collaborating with our carefully handpicked portfolio of local partners, these holidays represent exceptional value and there'll be plenty of cultural experiences shared with other like-minded travellers.
Group sizes and accommodation standards vary by destination where typical group size is 28 travellers and hotels, boats and safari lodges are of a 3-4 star standard.
