Explore enchanting Ecuador. Small in stature. But immense in diverse natural beauty and cultural fascination. Check out its charming capital, Quito. UNESCO-listed and with a beautiful colonial centre. Attention deservedly goes to the green Galapagos Islands and the astonishing Amazon. Covering a large portion of Ecuador's land mass, the Ecuadorian Amazon contains some of the most biodiverse ecosystems on the planet with a staggering variety of wildlife. Packed full of thousands of indigenous tribes that call it home, and the rich birdlife of the cloud forests.
Read More
Island hop around the Galapagos and discover the best of Ecuador on a flexible private tour or tailor-make your own ideal adventure.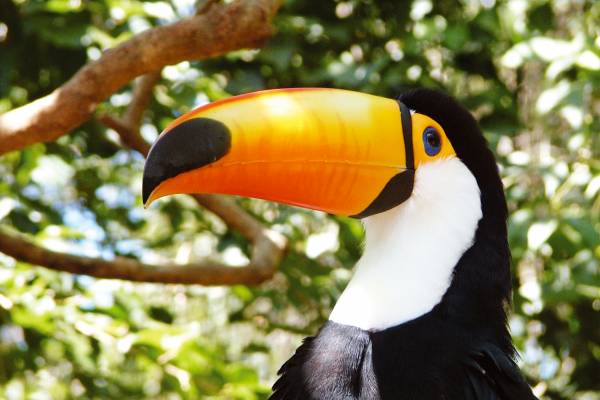 The star attraction of Ecuador has long been the wildlife-rich Galapagos Islands, but Ecuador has so much more to offer the adventurous traveller.
From colonial towns to verdant national parks and the wild Ecuadorian Amazon, there is plenty to fill up your itinerary here whether you are a lover of the great outdoors, local culture or the finer things in life. Taking into account all your travel interests and needs, our expert team of Tailor-made consultants will use their first-hand knowledge and expertise of Eucador to create a bespoke holiday just for you in 2021 or 2022.
Ecuador Day Tours and Excursions
Cover the attractions of Quito - its UNESCO-listed historic centre and nearby markets - with our range of day tours and activities.
Recent Travel Articles on Ecuador
Read All
Colourful culture
Indigenous tribes and bustling markets
Ecuador's vibrant native culture can be felt across the country from the wilds of the Amazon to the mountain town of Otavalo, where one of the region's most significant markets has been held for centuries. With their own traditions, language and dress, Ecuador's indigenous peoples offer an unparalleled glimpse into their traditional way of life.
Recommended places to visit in Ecuador
With pristine landscapes of great contrast, colourful indigenous tribes and market towns, unique and inspiring wildlife, and superb colonial architecture, Ecuador full of attractions. To help you get started we've compiled a list of our favourites:
Steeped in history, capital city Quito demands a visit from anyone passing through the country. A combination of colonial and more modern buildings gives the city an incredibly diverse landscape, especially with the Andes reigning supreme in the background. The city is a staggering 9,350 feet above sea level and the only place on earth where you can stand with one foot on each side of the equator!
Known for the role they played informing Charles Darwin and his theory of evolution, the Galapagos Islands are a living museum of natural history. With roughly 95% of its pre-human wildlife diversity still roaming the islands and its surrounding waters, the islands make up the most pristine ecosystem in the world. Licensed guides take explorers on tours to acquaint themselves with fearless animals. And the Galapagos Islands are also renowned for their world class diving, often allowing visitors to witness hammerhead and whale sharks.
The market which spreads across Otavalo is a hive of activity and has single-handedly put this city on the map. The market offers some fabulous shopping opportunities and brilliant cultural displays of traditional crafts and costumes. The Otavaleno people have retained virtually all of their traditional heritage, making the city a telling insight into the country's rich history and culture.
The Amazon Jungle has one of the highest levels of biodiversity in the world and the Ecuadorian portion of is right up there. Its famous Yasuni National Park has been acclaimed as the single most biologically diverse area on the planet. Hundreds of species of fish, reptile, mammal and thousands of different birds and insects live within the lush canopy of the jungle, making it a blissful haven for nature-lovers and wildlife fanatics.
Banos is one of the top destinations in Ecuador for its natural thermal waters which are found in abundance throughout the town and give the town its name (Banos translates as baths). Many of the baths are located right in the centre of the town, which, in turn, is situated at the bottom of the stunning Cascada de la Virgen waterfall. To complete the scene, the whole town is presided over by the imposing and volatile Tungurahua volcano.
Tailored To Suit You
On our Tailor-made trips, we give you the flexibility and choice to do things just the way you want, all alongside the great service we're famous for.
Whether you're travelling solo, with a partner, family, extended family or as group of friends we'll customise your arrangements to suit your exact needs and budget. Our Tailor-made trips are designed for your needs and you don't have to join other travellers like you would on a group tour. Just tell us what you'd like to see and when you'd like to go, and we'll design the perfect holiday for you.
The Tailor-made itineraries we've suggested are designed to give you an idea of what you could do with us, they can be booked as they are, or adapted to suit you. If you'd like to change any aspect of the trips you see, please get in touch. If you aren't quite sure of what you want to do, that's no problem either! One of our experienced travel consultants can make suggestions then together you can tweak until it's the perfect fit.
