Ancient wonders. Hidden treasures. Endless seas and golden sand. Make lifelong memories on our award-winning Egypt trips.
Once a land of dynasties and decadence; now a land where time stands still. We'll take you into the shadows of history. At the foot of the legendary Great Pyramids. In the heart of the tomb-strewn Valley of the Kings. Or before the mighty temple of Abu Simbel.

That's not all. We offer what money can't buy. Like once-in-a-lifetime opportunities. Rare experiences. And life-long friendships with your fellow travellers.

But don't just take our word for it. Our experiences are award-winning. And our tours win British Travel Awards year after year.

Please see here for the latest Egypt travel updates.
More Egypt Tours
Egypt Sun Festival Tours
View 7 Sun Festival Tours
For a holiday in Egypt that's out of the ordinary, consider one of our unique tours that combine the highlights of ancient Egypt with a special dawn visit to Abu Simbel to witness a true spectacle.
Read More
Our Sun Festival trips coincide with the birthday (21 October) and coronation day (21 February) of King Ramses II when the temple's inner sanctum is illuminated by the sun's ray. With incredible architectural precision, Ramses II had his entire temple carefully angled and oriented for this precise event.
Read Less
Egypt Short Stays
View 3 Short Stays
Visit ancient Egypt's most impressive sights with our perfectly crafted short stays that include airport transfers, accommodation, daily breakfast and a day of guided sightseeing in one neat package.
Read More
Marvel at the famed Pyramids of Giza and come face-to-face with the bejewelled death mask of King Tutankhamen at the Egyptian Museum. With our range of three or four day Cairo city stays you can opt for a day at leisure to enjoy Cairo your way and choose to stay at a deluxe hotel located a stone's throw from the Pyramids.
Read Less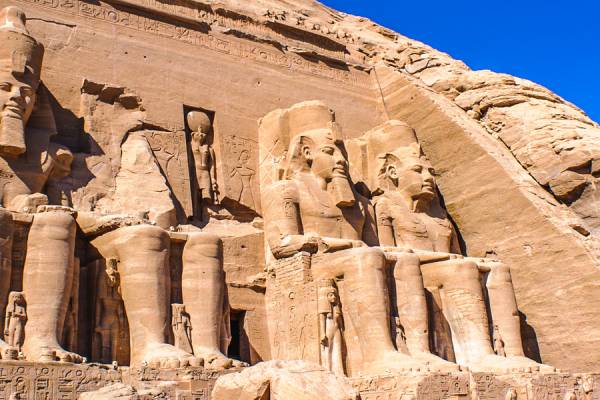 We tailor our experiences around what you want to see - just tell us what's on your bucket list. We'll do the legwork. And our expert guides will help you along the way. That means you can explore Egypt on your own terms, in your own time, without any stress. It means you can focus on making every second of your adventure count...

Click here to begin planning your Tailor-made trip to the Land of the Pharaohs.
Egypt Day Tours and Excursions
Got a few hours to spare in Egypt? Why not take in the city sights of the capital Cairo, admire the incredible Pyramids of Giza, snorkel in the Red Sea at Hurghada or explore the ancient temples and tombs of Luxor.
Egypt tour reviews
Scoring an average traveller rating of 4.86 out of 5 based on 229 recent reviews — See All Egypt Reviews
"
This tour was truly surreal and Sherif our Egyptologist Tour Guide was AMAZING, his knowledge, timing, organization and all the extra details he gave to our group was beyond expectations. So many laughs and special memories made. Ty Sherif for teaching us all about your beautiful country and culture!"
Ludwig Walter
• Submitted 4 Dec 2021
"
Sharif was outstanding. Highly personable; eminently knowledgeable; utterly professional; well organised; and most importantly, kind and considerate. We are most grateful to him. "
Linda Soekoe
• Submitted 29 Nov 2021
"
Our guide had excellent knowledge about all of the locations on our tour. Not only did we learn all about modern life in Egypt we learned intricate details about ancient Egyptian history from our guide. He really made what we saw come to life. I would highly recommend our guide Sherif to any future Egypt travelers. "
Kendall Knoke
• Submitted 28 Nov 2021
Frequently asked questions about our touring holidays in Egypt
Will I see the Great Pyramids?
You most certainly will. The world's last remaining ancient wonder has attracted travellers to Egypt throughout the ages and we include this must-see attraction on all our tours. You'll also see the famous Sphinx with the option to ride a camel close to the Pyramids and enter the interior of Khufu. The day of sightseeing also includes the ancient necropolis of Saqqara, home to Zhoser's step pyramid.
What options do you offer to cruise the Nile River?
On our tours that travel as far south as Aswan, we include a two night felucca cruise as standard. Feluccas are traditional wooden sail boats with mattresses on the deck where you'll sleep at night. A support vessel accompanies the felucca with an on-board toilet and shower. There is always the option to
upgrade to a 5 star Nile cruise
, which offers well–appointed, outward facing cabins with air-conditioning and private bathrooms. Alternatively, our
Jewel of the Nile
tour features a 5 star, three night cruise as standard.
Is it safe to visit Egypt?
It's impossible to deem a country safe when you have no control over events but our Egypt holidays have been departing as scheduled ever since the initial travel ban that surrounded the Arab Spring. Recent events have not been directed at tourists and the popular sightseeing area along the Nile has no travel restrictions in place. The FCO advises that there is a heightened risk of terrorism in Egypt but that same advice is also applied to Belgium and France. In other words, Egypt is no less safe than European destinations during these uncertain times. Consult our
Egypt Travel Advice
page for up-to-date information on the security situation in Egypt.
I want to include a visit to Petra in neighbouring Jordan - is this possible?
If you want to explore more of the region's ancient wonders, we offer a number of tours that combine Egypt with
Jordan
and even
Israel
. Ranging from 12 to 18 days, these multi-country combo tours feature the highlights of both countries including the Rose City of Petra, the otherworldly Dead Sea and the remarkable Wadi Rum. Browse our full collection of Egypt tours for more details.
How big are your tour groups and what is the age of your travellers?
Our average group size is around 14 passengers and you'll be travelling with an eclectic mix of English-speaking internationals. You can expect a wide range of ages from those in their 20s to those in their 60s or even 70s. On average though the age hovers somewhere around the early to mid 40s.
What is the standard of hotels on your trips?
You'll be staying in 4-5 star accommodation on our Egypt holidays, with a mix of modern properties and grand, classical buildings that are well-known. Our hotels have been chosen for their great locations, amenities and comfort.
What sort of transport do you use?
For transfers between our hotels and the local sites we travel by private, modern air-conditioned vehicles. This includes airport transfers too. You'll also be travelling by 1st class overnight sleeper train between Cairo and Luxor/Aswan. For more information on the sleeper train in Egypt, check out our
Top Travel Tips
page. Between Luxor and Aswan you'll cruise the Nile by felucca for a taste of navigation that has been used in these parts for centuries.
When is the best time to visit Egypt for general sightseeing?
Visit between September and April for the most comfortable temperatures and ideal sightseeing conditions. Between March and August temperatures are high and the heat dry. You could consider going for the bi-annual Abu Simbel Sun Festival, which takes place in February and October each year. Not only is the weather great at these times of year but it means you can also coincide your trip with this special event. For more information see our
best time to visit Egypt
page.
Combine Egypt with Jordan, Israel or Turkey
See the best of both
Discover the remarkable history and incredible sights of Egypt, from the mighty Pyramids of Giza to the awe-inspiring temples of Abu Simbel. Then why not continue to neighbouring Jordan for the Lost City of Petra or Israel for its many important religious sites? Alternatively, you could combine with Turkey for natural wonders and Roman ruins.
Egypt tours and trips highlights
You're headed for Egypt, but where will your adventure begin? Here's what we'd put on our to-do list.
Embark on a journey over 3,000 years old. Sail the Nile on a traditional felucca - or a luxury cruise. Find a tour.
Wander the vibrant streets of Cairo, Aswan, and Alexandria; where old meets new like nowhere else. Find a tour.
Exciting Days, Comfortable Nights
Our Signature group tours place local interaction and authenticity at the heart of your travel experience.
For our Signature range, we maximize your days with excitement and then bring you home to specially selected accommodation with extra character, convenience and comfort, whether that's a five-star river boat on the Nile or a traditional Japanese Ryokan. Accommodation in this range features comfortable western standards, air-conditioning, WiFi and, where appropriate, a swimming pool.
On a Signature holiday, you'll be escorted throughout your trip by our qualified English-speaking local guides who'll show you all the must-see attractions and even the lesser-known sights.
To further add to that special touch, the group sizes in our Signature range are mid-sized: small enough to be intimate, but large enough that you can bond with new friends over common interests.
Tailored To Suit You
On our Tailor-made trips, we give you the flexibility and choice to do things just the way you want, all alongside the great service we're famous for.
Whether you're travelling solo, with a partner, family, extended family or as group of friends we'll customise your arrangements to suit your exact needs and budget. Our Tailor-made trips are designed for your needs and you don't have to join other travellers like you would on a group tour. Just tell us what you'd like to see and when you'd like to go, and we'll design the perfect holiday for you.
The Tailor-made itineraries we've suggested are designed to give you an idea of what you could do with us, they can be booked as they are, or adapted to suit you. If you'd like to change any aspect of the trips you see, please get in touch. If you aren't quite sure of what you want to do, that's no problem either! One of our experienced travel consultants can make suggestions then together you can tweak until it's the perfect fit.
