Discover the real Japan on our group tours and Tailor-made holidays. Taking you beyond the usual sites to sample authentic Japanese hospitality.
Japan: a stunning harmony of total contrasts. Where age-old tradition blends with futuristic living. Where bamboo forests meet towering skyscrapers. Where sumo and samurai shows follow robot restaurant experiences.

Journey to Japan for an unforgettable adventure. And lose yourself in the culture that's taking the world by storm. As an award-winning group tour operator, we'll help you uncover the best there is to see.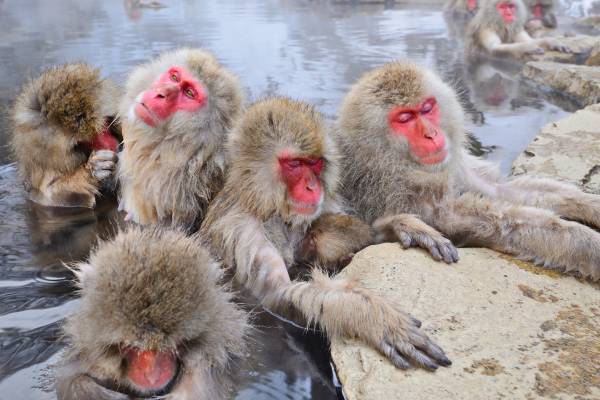 Only you know what you want to see. We're here to make it happen. We can create a one-of-a-kind Japan trip tailored just for you. Your bucket list. Your budget. And your time frame.

It's your adventure, after all...

Just fill us in on the details. Our award-winning team of Tailor-made travel experts can't wait get started.
Japan Day Tours and Excursions
Rickshaw rides through bamboo forests. Sumo shows and samurai demonstrations. Remains of tragedy and lessons of peace. Uncover hidden gems on our day trips and excursions in Japan.
Japan tour reviews
Scoring an average traveller rating of 4.33 out of 5 based on 12 recent reviews — See All Japan Reviews
"
Great way to see the major sights & experience traditional food & culture.
Good balance of historical, traditional and contemporary sights or experiences. OTG managed the logistics of getting around cities and countries which made this effortless for us. Guide was incredibly helpful and always went that extra mile for the group. Size of group was good and ensured you never missed anything"
David Poynter
• Submitted 28 Oct 2019
"
Very interesting and enjoyable
Very professional from the time I started my inquiry about the tour, everything was detailed and clear. The agent was very helpful and cooperative to solve any issue I had. The tour was very informative and the tour guide was knowledgeable of the subjects that were explored"
Nidal Baath
• Submitted 18 Oct 2019
"
Thank you Yuki - she made this trip perfect. My highlight was seeing a geisha and Mt Fuji."
Catherine Maiden
• Submitted 21 May 2019
Frequently asked questions about our touring holidays in Japan
Will I visit Mt. Fuji?
Japan's most iconic peak features on all our itineraries with a night spent beside Lake Kawaguchi, a picturesque body of water that sits beneath Mt. Fuji. Here you'll get to soak up the views of the snow-capped mountain and ride the ropeway to the summit of Mt. Kachi Kachi for even more impressive panoramic vistas of Fuji and the surrounding area.
Will I get to ride a bullet train on your Japan trips?
Yes you will. The journey from Hakone to Kyoto on our group tours includes a trip on the famous bullet train - known as the shinkansen in Japanese. The train journey takes less than two hours and covers a distance of 364km.
What type of accommodation will I be staying in?
You'll mostly be staying in good value and well-located hotels that offer Western amenities. For an authentic Japanese experience, we spend one night in a traditional ryokan - an ancient style of inn. Here you'll get to enjoy Japanese hospitality, sleep on a futon surrounded by tatami mats and dine on freshly prepared meals.
Will I get to see geisha on your Japan tours?
We can't guarantee that you'll catch sight of a geisha while visiting Japan but chances are good as Kyoto is one of the best places to see them and we include Kyoto on all of our Japan group tours. We include a walking tour of Gion, the city's most famous geisha district and there will be free time to revisit in the early evening when geisha are often moving between appointments.
I don't eat fish. Will this be a problem in Japan?
Whilst fish is an important part of the Japanese diet, there's plenty else on the menu. Chicken and beef feature prominently, whether cooked on a hot plate in a delicious teriyaki sauce or deep fried and accompanying an egg. Noodles and rice form the basis of many meals and vegetarians can opt for tempura (lightly battered and fried) vegetables and various forms of tofu. For more information on food in Japan, check out our
Top Travel Tips page
. Let us know of your dietary requirements at time of booking so we can ensure suitable meals are provided at our ryokan.
How big are your Japan tour groups and what is the age of your travellers?
Our escorted tours in Japan have an average group size of around 8-10 travellers with a maximum group size of 16. Our popular Cherry Blossom Festival itinerary fills up quickly and travels with a group size of 18. Our Japan holidays generally attract those aged between 30 and 70 with an average of age of around 45-50.
I want to see Japan at its most beautiful. When do you recommend I visit?
Most people would agree that the best time for a Japan holiday is either in the spring (March to May) or autumn (September to November). In spring you can witness delicate pink cherry blossoms decorate the landscapes while in autumn these colours give way to fiery reds, oranges and yellows. Our travel guide has further information on the
best time to visit Japan
.
Encounter a culture like no other
Get to the beating heart of Japan
Life-changing opportunities. New-found friendships. Award-winning experiences. Life-long memories. Our tours of Japan offer what money can't buy.

Our expert guides will introduce you to the true Japan. They'll let you in on all the local secrets. And they'll leave no stone unturned.

Talk to us about your trip to Japan. We'll do the legwork and deal with the logistics. It means we can lift the stress from your shoulders. It means you can focus on what's key: making every moment count.
The best of Japan
Headed for Japan? Make sure these highlights are on your bucket list.
Walk the lantern-lit streets of traditional ryokan and practising geisha. Kyoto is the capital of Japanese culture - and a true work of art. Find a tour.
A stunning national park, home to Japan's most iconic view. Mount Fuji sits atop striking scenes of green woodland, crystal clear lakes, and inviting hot springs. Find a tour.
Ever-evolving skylines, cosmopolitan corners, and neon-lit streets. Tokyo is a city headed for the future. But look closely for kabuki, sumo, tea, and sushi - tradition is everywhere. Find a tour.
An enchanting island of rural charm, just off the coast of Hiroshima. Home to the floating torii gate of the Itsukushima Shrine, and stunning views of Mount Misen and the Inland Sea. Find a tour.
Exciting Days, Comfortable Nights
Our Signature group tours place local interaction and authenticity at the heart of your travel experience.
For our Signature range, we maximize your days with excitement and then bring you home to specially selected accommodation with extra character, convenience and comfort, whether that's a five-star river boat on the Nile or a traditional Japanese Ryokan. Accommodation in this range features comfortable western standards, air-conditioning, WiFi and, where appropriate, a swimming pool.
On a Signature holiday, you'll be escorted throughout your trip by our qualified English-speaking local guides who'll show you all the must-see attractions and even the lesser-known sights.
To further add to that special touch, the group sizes in our Signature range are mid-sized: small enough to be intimate, but large enough that you can bond with new friends over common interests.
Tailored To Suit You
On our Tailor-made trips, we give you the flexibility and choice to do things just the way you want, all alongside the great service we're famous for.
Whether you're travelling solo, with a partner, family, extended family or as group of friends we'll customise your arrangements to suit your exact needs and budget. Our Tailor-made trips are designed for your needs and you don't have to join other travellers like you would on a group tour. Just tell us what you'd like to see and when you'd like to go, and we'll design the perfect holiday for you.
The Tailor-made itineraries we've suggested are designed to give you an idea of what you could do with us, they can be booked as they are, or adapted to suit you. If you'd like to change any aspect of the trips you see, please get in touch. If you aren't quite sure of what you want to do, that's no problem either! One of our experienced travel consultants can make suggestions then together you can tweak until it's the perfect fit.
