Find the Big Give and meet Masai warriors with our range of camping and lodge safari tours and tailor-made safari holidays to Kenya.
Kenya is spectacular. The Great Rift Valley. Mighty Mt Kenya. Masia Mara's stunning savannah plains. Lake Nakuru and its flock of pink flamingos. A pristine Indian Ocean coast. Kenya's premier game reserve, the Masai Mara - gets its name from the Masai tribes people and the Mara River which divides it. Famous for its remarkable population of game, the annual Great Migration of the wildebeest between August and October each year provides fascination. The Masai Mara is perhaps most famous for its lions, though all the other members of the Big Five roam the reserve too.
Read More
Kenya is a classic African destination with incredible safari opportunities and many highlights. Why is why we offer a range of travel styles departing in 2020 and 2021 from adventurous overland camping trips to lodge accommodated safaris as well as tailor-made holidays.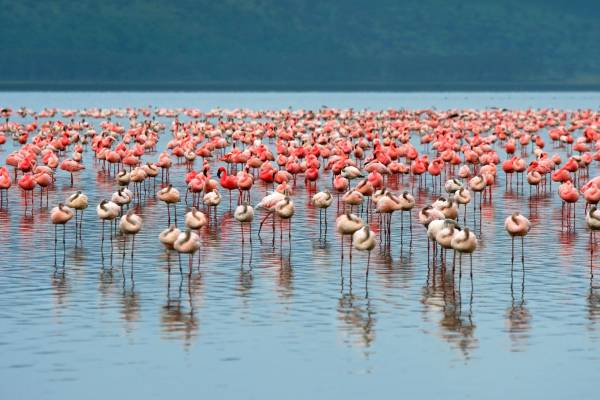 Design your own perfect safari holiday to Kenya with the help of our tailor-made team. Our travel consultants can put together an itinerary in Kenya to suit your wishes, incorporating your interests and passions with simply must see and do along the way
Whether it be spotting wildlife on safari, meeting the locals or heading to the skies for a scenic hot-air balloon ride. Let us know your preferred standard of lodge accommodation and when you want to go and we do the rest.
Kenya tour reviews
Scoring an average traveller rating of 4.71 out of 5 based on 7 recent reviews — See All Kenya Reviews
"
This trip was a million times more incredible than I ever imagined. We traveled with and the crew on our trip were just amazing and thanks to our wonderful chef. They put together a seamless, stress-free journey with great food and many laughs. The truck was incredibly well equipped, the tents were lovely and spacious, and the bed rolls were surprisingly comfortable. We didn't feel the need to upgrade our accommodation at any of the campsites.
This trip covered all the highlights with multiple game drives and plenty of opportunity to view the African wildlife. Camping in the National Parks was an absolute highlight. We also had opportunities to visit local villages in Tanzania and Malawi. Zanzibar was just wonderful and felt like a holiday inside a holiday. What a stunning destination with white sand beaches, warm Indian ocean and a tonne of history. There are some long driving days, but that was absolutely required to cover the distance that we did. They provided a welcome opportunity to rest and admire the stunning landscapes. My only complaint is that I couldn't have stayed on this trip for longer!"
Jennifer Schori
• Submitted 22 Nov 2019
"
Literally the most amazing experience of my life, joined 2 tours across the the experience and both were unreal. The crew on the trucks are absolutely fantastic, really knowledgeable guide, wonderful cook and a safe and accurate driver. More importantly they encouraged the group to create such a family unit that my friend and I both cried all the way to the airport because we had to leave them. The experience itself was an amazing mix of beaches, wildlife and falls and the itinerary provided was absolutely correct. Would recommend this trip to anyone and I certainly will be using on the go in the future"
Katrina Tyson
• Submitted 8 Oct 2019
"
We have traveled 2 Africa twice with On the Go Tours and totally enjoyed the experience both times , we had great food and great leaders"
Troy Clifford
• Submitted 12 Aug 2019
A Year-Round Destination
Safari opportunities abound
Kenya is a fantastic safari destination at any time of year with world-famous national parks boasting a incredible array of wildlife and brief wet seasons. The Masai Mara is home to the Big Five and witnesses the Great Migration that follows a year-long cycle. So there's always something of interest taking place on the savanna. Even when the rains come there's still strong wildlife viewing thanks to thinner crowds and a steady animal population in other national parks.
Value and Adventure
With our Overlanding range, we give you amazing experiences at a great price. Travelling aboard large, purpose-built trucks, with all the equipment necessary for camping and cooking onboard, overlanding allows you to cover large distances and explore multiple countries in an affordable and fun way. As well as taking in key highlights, our Overland tours are able to get off the beaten track, getting under the skin of the countries you visit.
Whether it's going in search of the Big Five in Africa's flagship national parks, floating through the Okavango Delta in a mokoro, or scaling the Sossusvlei dunes in Namibia, spend your days enjoying a wide range of exciting activities and camp out each night under a blanket stars.
Group sizes tend to be a little larger on our Overlanding tours (with an average of 24), providing a social and fun travel experience with like-minded travellers. Group participation is all part of the experience, helping to set up camp, shop for local produce and cook meals, all creates great camaraderie.
Our Overlanding tours include a local payment. As well as keeping up front costs down for you, it means that even more of your money stays within the local area. Cost-effective trips and great for the community; can't be bad!
Iconic Experiences, Local Partners
On our Handpicked range we bring you the most iconic experiences in destinations where you'll join travellers from other travel brands on your tour, safari or sailing holiday. Collaborating with our carefully handpicked portfolio of local partners, these holidays represent exceptional value and there'll be plenty of cultural experiences shared with other like-minded travellers.
Group sizes and accommodation standards vary by destination where typical group size is 28 travellers and hotels, boats and safari lodges are of a 3-4 star standard.
Tailored To Suit You
On our Tailor-made trips, we give you the flexibility and choice to do things just the way you want, all alongside the great service we're famous for.
Whether you're travelling solo, with a partner, family, extended family or as group of friends we'll customise your arrangements to suit your exact needs and budget. Our Tailor-made trips are designed for your needs and you don't have to join other travellers like you would on a group tour. Just tell us what you'd like to see and when you'd like to go, and we'll design the perfect holiday for you.
The Tailor-made itineraries we've suggested are designed to give you an idea of what you could do with us, they can be booked as they are, or adapted to suit you. If you'd like to change any aspect of the trips you see, please get in touch. If you aren't quite sure of what you want to do, that's no problem either! One of our experienced travel consultants can make suggestions then together you can tweak until it's the perfect fit.
