Mystifying medieval cities. Wildlife packed parks. Magnificent mountain ranges. Never forget an On The Go Tour to Nepal. Complete with cultural sightseeing tours and trekking.
An outdoor paradise. Staggering natural beauty. Wonderful wildlife. Hypnotising history. This is Nepal. Landlocked between the soaring snow-capped peaks of the Himalayas and the marshy grasslands along the border with India. Embrace unrivalled mountain trekking through sensational scenery, ancient Buddhist temples and monasteries. A captivating capital city, enrich your mind with the 2000-year history of Kathmandu. Explore the ancient trading town of Bhaktapu. Visit the birthplace of Buddha in Lumbini or track exotic local wildlife in Chitwan National Park.
Read More
An On The Go Tour to Nepal gives you everything. We explore ancient squares filled with stunning architecture, spot an array of wildlife in beautiful national parks and soak up the incredible views of Nepal's majestic mountain ranges. We also offer trekking in the Annapurna region of Nepal. We know how to piece together a trip you'll never forget. So, leave the details to us and you can focus on having that adventure of a lifetime.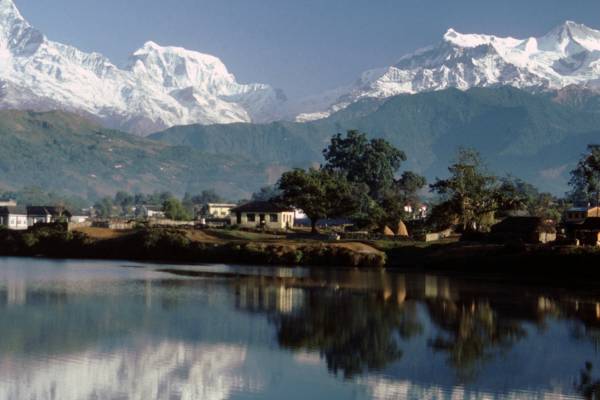 Nepal is terrific for a Tailor-made holiday. Explore the temples, shrines and bustling street life of the capital Kathmandu. Trek through the impressive mountain vistas of the Himalayas. Watch wildlife in Chitwan National Park. Whatever your travel interests are - be it venturing off the beaten track, conquering Everest Base Camp, going on a religious pilgrimage to Buddha's birthplace or spotting a rare one horned rhino, our Tailor-made team ensure you get the most out of your holiday to Nepal.
Nepal Day Tours and Excursions
Experience the best of medieval Kathmandu and its surrounding attractions with our offering of day tours and activities in Nepal's captivating capital.
Nepal tour reviews
Scoring an average traveller rating of 4.88 out of 5 based on 8 recent reviews — See All Nepal Reviews
"
Our guide Anel was excellent and very knowledgeable and our driver was absolutely brilliant.
The hotels were excellent and the food to die for. I cannot fault this trip at all …. highly recommend. "
Elizabeth Erasmus
• Submitted 14 Jan 2020
"
It has always been a dream to hike in the Himalayas and I am so glad I chose On The Go to do it with! The group size was absolutely perfect, and the guides were incredible! This tour really does combine the perfect balance of culture and adventure! We were able to witness how Kathmandu is recovering from the earthquake in 2015, and how their conservation efforts are being implemented in Chitwan! We even saw a Rhino when relaxing in the pool, our safari hadn't even started yet! Once on the trail, we could not have been in better hands. Our mountain guide Pasang was so knowledgeable about the mountains, the history and folklore. Even with hours of hiking per day he always kept us entertained. The pressure of "trying to keep up" was alleviated immediately and everyone felt really comfortable to go at their own pace. The teahouses used were so much better than we expected and the food inclusions were always more than we could eat with heaps of options available to us everyday! I will absolutely return to Nepal, and continue booking with On The Go Tours! It was the best experience!!"
Kirsty H
• Submitted 26 Nov 2019
"
This was my first organised tour after many years as as independent traveler, so I was a little hesitant about the experience. However from the moment we booked until the last day, we were met with an enthusiastic and professional On The Go workforce who all contributed to ensuring we had the best possible time. Fabulous trip, well organised and comprehensive."
Lai Newman
• Submitted 24 Nov 2019
Recent Travel Articles on Himalayas
Read All
Go wild in Chitwan
Asia's finest national park
Translating to the 'heart of the jungle', Chitwan National Park is Nepal's premier wildlife destination. This UNESCO-listed reserve is home to more than 700 species of animal including the elusive Bengal tiger, the endangered one-horned rhinoceros and wild Indian elephants. A jeep safari is the best way to explore the park in the search of these beautiful creatures though nature walks and canoe excursions are also on offer.
Highlights of our Nepal tours and trekking adventures
With stunning natural scenery of mountains and lakes, beautiful temples and national parks, there's so much to see and do in Nepal. Fear not. We include all the must-see destinations on our range of tours.
Wander through the medieval Durbar Square. Visit the Swayambhunath stupa for panoramic views of the city. Ride a rickshaw around the bustling backstreets and shop at the Thamel Market.
Spend two nights in Chitwan National Park, one of Asia's finest, with game drives in search of the one-horned rhinoceros and Indian elephant, and free time to choose from a range of activities.
Watch sunrise from the World Peace Pagoda. Soak up the views of the Annapurna range. Savour a gentle sail across Lake Phewa with free time to relax or satisfy your adrenaline craving.
Discover the ancient heart of Bhaktapur and its beautiful Durbar Square and take the chance to visit local families to see how local yoghurt is made - and try your hand at pottery making!
Exciting Days, Comfortable Nights
Our Signature group tours place local interaction and authenticity at the heart of your travel experience.
For our Signature range, we maximize your days with excitement and then bring you home to specially selected accommodation with extra character, convenience and comfort, whether that's a five-star river boat on the Nile or a traditional Japanese Ryokan. Accommodation in this range features comfortable western standards, air-conditioning, WiFi and, where appropriate, a swimming pool.
On a Signature holiday, you'll be escorted throughout your trip by our qualified English-speaking local guides who'll show you all the must-see attractions and even the lesser-known sights.
To further add to that special touch, the group sizes in our Signature range are mid-sized: small enough to be intimate, but large enough that you can bond with new friends over common interests.
Tailored To Suit You
On our Tailor-made trips, we give you the flexibility and choice to do things just the way you want, all alongside the great service we're famous for.
Whether you're travelling solo, with a partner, family, extended family or as group of friends we'll customise your arrangements to suit your exact needs and budget. Our Tailor-made trips are designed for your needs and you don't have to join other travellers like you would on a group tour. Just tell us what you'd like to see and when you'd like to go, and we'll design the perfect holiday for you.
The Tailor-made itineraries we've suggested are designed to give you an idea of what you could do with us, they can be booked as they are, or adapted to suit you. If you'd like to change any aspect of the trips you see, please get in touch. If you aren't quite sure of what you want to do, that's no problem either! One of our experienced travel consultants can make suggestions then together you can tweak until it's the perfect fit.
