Ancient cultures, captivating cities, and boundless natural beauty. Fall for South Korea with On The Go Tours.
The land of the morning calm and the hidden gem of the Far East. Where cherry blossom blooms, history stands proud, and age-old tradition thrives. Where nocturnal cities of the future lie beside tranquil plains of spotless beauty. Discover South Korea, a harmonious balance of serenity and vibrance.

South Korea remains pretty untouched by the tourist track. And we want to keep it that way. That's why our tours only uncover the authentic South Korea. It's why we only enlist the help of expert local guides. And it's why we win British Travel Awards, year after year.

We'll take you to the heart of South Korean culture and history. It makes for the best adventure.
South Korea Private Tours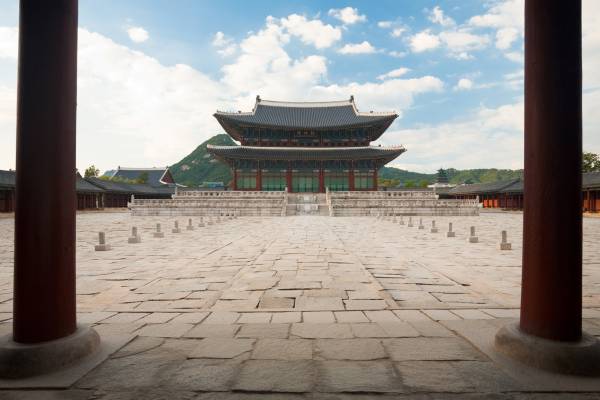 Nobody knows your adventurous side like you do. So we can tailor your South Korea trip to match the experience you're looking for.

Whether you want to explore the relics of ancient kingdoms. Wander the streets of futuristic cities. Or venture towards the vibrant landscapes of natural South Korea.

We'll expertly craft your tour around you: your budget, your time frame, and your bucket list. So what are you waiting for? Let's get your Tailor-made South Korea trip started!
South Korea Day Tours and Excursions
Explore the city streets and hidden spots of heritage. Take traditional cooking classes or evening food tours. Head out to the DMZ or Nami Island. Got a few hours to spare in Seoul or Jeju? We've got it covered.
An adventure like no other
We'll do the planning. We'll fill in the paperwork. And we'll deal with the logistics. It means we can take the stress off your shoulders. It means you can focus on making every moment of your South Korea trip count.

You can book with us in confidence - our trips are ABTA and ATOL protected. And you can expect the exceptional service we're proud to offer.
South Korea in the spotlight
A trip to South Korea is on the cards. But where will your adventure take you?
Mountain peaks, hot springs, and untouched natural beauty. Uncover South Korea's hidden side at Seoraksan National Park. Find a Seoraksan tour.
Where the bright lights of the future meet relics of the past. Traditional temples and ancient ruins hide within the bustling streets of Seoul. We'll help you find them. Find a Seoul trip.
Gyeongju glitters with traditional temples and towering pagodas. It brims with tales of ancient Korean culture. It's where a proud, colourful history comes to life. Find a Gyeongju trip.
Home to a unique layer of South Korean culture, Jeju is an island getaway like no other. Head towards its idyllic beaches, mountain hikes, and unrivalled views. Find a trip to Jeju.
Exciting Days, Comfortable Nights
Our Signature group tours place local interaction and authenticity at the heart of your travel experience.
For our Signature range, we maximize your days with excitement and then bring you home to specially selected accommodation with extra character, convenience and comfort, whether that's a five-star river boat on the Nile or a traditional Japanese Ryokan. Accommodation in this range features comfortable western standards, air-conditioning, WiFi and, where appropriate, a swimming pool.
On a Signature holiday, you'll be escorted throughout your trip by our qualified English-speaking local guides who'll show you all the must-see attractions and even the lesser-known sights.
To further add to that special touch, the group sizes in our Signature range are mid-sized: small enough to be intimate, but large enough that you can bond with new friends over common interests.
Tailored To Suit You
On our Tailor-made trips, we give you the flexibility and choice to do things just the way you want, all alongside the great service we're famous for.
Whether you're travelling solo, with a partner, family, extended family or as group of friends we'll customise your arrangements to suit your exact needs and budget. Our Tailor-made trips are designed for your needs and you don't have to join other travellers like you would on a group tour. Just tell us what you'd like to see and when you'd like to go, and we'll design the perfect holiday for you.
The Tailor-made itineraries we've suggested are designed to give you an idea of what you could do with us, they can be booked as they are, or adapted to suit you. If you'd like to change any aspect of the trips you see, please get in touch. If you aren't quite sure of what you want to do, that's no problem either! One of our experienced travel consultants can make suggestions then together you can tweak until it's the perfect fit.
