Packed full of raw natural beauty and mind-blowing animals, Tanzania is a safari paradise. Hop on an On The Go safari to access the sensational Serengeti. Look forward to monumental mountains, vast volcanoes, wonderful wild plains and more.
Tanzania is bursting in natural beauty and special safari. With its national parks covering an astounding 42,000 km². Stop off at UNESCO-listed Serengeti National Park for a glimpse of the Big Five - lion, leopard, elephant, buffalo and black rhino - plus giraffe, gazelle, impala, kongoni, topi, eland, and wildebeests. Check out Ngorongoro Crater: a vast volcanic crater ring teeming with animals. See Tanzania's magnificent Mt Kilimanjaro, the world's tallest free-standing mountain. And Zanzibar, an idyllic tropical getaway, ideal for some blissful beach time.
Read More
We have a number of different travel styles to Tanzania. From overland camping expeditions and small group lodge accommodated safaris to tailor-made holidays and day tours that cover many of Tanzania's top spots. Find the best one for you and say hello to a once-in-a-lifetime African experience.
Tanzania Overland Camping Safaris
Tanzania Lodge Accommodated Safaris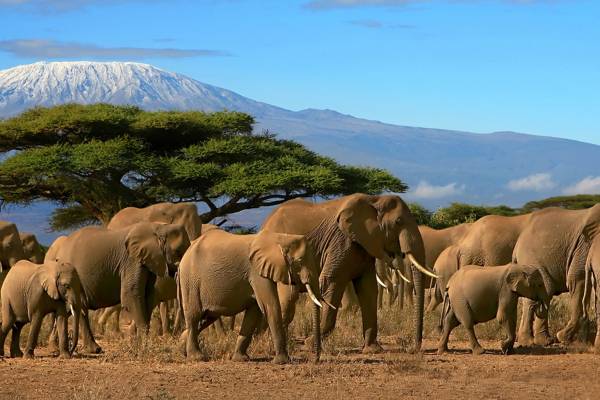 Let our expert tailor-made team put together the perfect itinerary to get the most out of terrific Tanzania.
From looking for the Big Five on safari in the Serengeti, relaxing on the beaches of Zanzibar and Pemba or even climbing to the lofty heights of Kilimanjaro – we've got it all covered. Let us know what you want to see and do and we'll do the rest, providing our top picks of lodges and hotels for your budget and taste.
Tanzania tour reviews
Scoring an average traveller rating of 4.78 out of 5 based on 9 recent reviews — See All Tanzania Reviews
"
This trip was a million times more incredible than I ever imagined. We traveled with and the crew on our trip were just amazing and thanks to our wonderful chef. They put together a seamless, stress-free journey with great food and many laughs. The truck was incredibly well equipped, the tents were lovely and spacious, and the bed rolls were surprisingly comfortable. We didn't feel the need to upgrade our accommodation at any of the campsites.
This trip covered all the highlights with multiple game drives and plenty of opportunity to view the African wildlife. Camping in the National Parks was an absolute highlight. We also had opportunities to visit local villages in Tanzania and Malawi. Zanzibar was just wonderful and felt like a holiday inside a holiday. What a stunning destination with white sand beaches, warm Indian ocean and a tonne of history. There are some long driving days, but that was absolutely required to cover the distance that we did. They provided a welcome opportunity to rest and admire the stunning landscapes. My only complaint is that I couldn't have stayed on this trip for longer!"
Jennifer Schori
• Submitted 22 Nov 2019
"
Literally the most amazing experience of my life, joined 2 tours across the the experience and both were unreal. The crew on the trucks are absolutely fantastic, really knowledgeable guide, wonderful cook and a safe and accurate driver. More importantly they encouraged the group to create such a family unit that my friend and I both cried all the way to the airport because we had to leave them. The experience itself was an amazing mix of beaches, wildlife and falls and the itinerary provided was absolutely correct. Would recommend this trip to anyone and I certainly will be using on the go in the future"
Katrina Tyson
• Submitted 8 Oct 2019
"
Our guide was superb, he was honest, considerate and full of excellent advice on travelling through the areas we were going. In the same way our cook, Peter was fantastic - every meal was exceptionally good and the team was completed by a fantastic driver Peterson, who made sure that we were always comfortable on the bus, despite the pot holes. We visited some fantastic places and the included game drives and activities were excellent - the local guides used were always top quality.
The long days driving through Tanzania were challenging, although we were expecting this but leaving one place in the dark and arriving in the dark at the next, travelling all day on two consecutive days was tedious. "
Lisa Cashmore
• Submitted 30 Jul 2019
Safari and Beach
The dream holiday combination
From the vast plains of the Serengeti and incredible natural amphitheatre of the Ngorongoro Crater where the Big Five (and more) roam, Tanzania is one of Africa's top safari destinations. The tropical paradise of the Zanzibar archipelago off the coast provides another superb option for a wildlife and beach holiday combination for sun, sea and safari.
Highlights of our Tanzania safaris
Tanzania offers everything you could possibly ask of a safari destination. Nature-filled national parks. Wondrous wildlife. Blissful beaches. Monumental mountains. And astonishing ancient cultures. Here are the highlights you can look forward to on one of our safari trips.
Travel across the vast grassy plains of the famed Serengeti on a game drive in search of the Big Five and witness the various cycles of East Africa's Great Wildebeest Migration.
Head into the ancient volcanic caldera of the Ngorongoro Crater, home to an unparalleled concentration of wildlife including one of the densest populations of Masai lion.
Admire what Ernest Hemingway described as the 'loveliest lake in Africa' with a game drive around the shallow, alkaline waters of Lake Manyara where candy-coloured flamingos congregate.
Take on the challenge of Mount Kilimanjaro, standing at a height of 5,896-metres and the highest mountain in Africa, comprised of three volcanic cones with various hiking routes.
Value and Adventure
With our Overlanding range, we give you amazing experiences at a great price. Travelling aboard large, purpose-built trucks, with all the equipment necessary for camping and cooking onboard, overlanding allows you to cover large distances and explore multiple countries in an affordable and fun way. As well as taking in key highlights, our Overland tours are able to get off the beaten track, getting under the skin of the countries you visit.
Whether it's going in search of the Big Five in Africa's flagship national parks, floating through the Okavango Delta in a mokoro, or scaling the Sossusvlei dunes in Namibia, spend your days enjoying a wide range of exciting activities and camp out each night under a blanket stars.
Group sizes tend to be a little larger on our Overlanding tours (with an average of 24), providing a social and fun travel experience with like-minded travellers. Group participation is all part of the experience, helping to set up camp, shop for local produce and cook meals, all creates great camaraderie.
Our Overlanding tours include a local payment. As well as keeping up front costs down for you, it means that even more of your money stays within the local area. Cost-effective trips and great for the community; can't be bad!
Iconic Experiences, Local Partners
On our Handpicked range we bring you the most iconic experiences in destinations where you'll join travellers from other travel brands on your tour, safari or sailing holiday. Collaborating with our carefully handpicked portfolio of local partners, these holidays represent exceptional value and there'll be plenty of cultural experiences shared with other like-minded travellers.
Group sizes and accommodation standards vary by destination where typical group size is 28 travellers and hotels, boats and safari lodges are of a 3-4 star standard.
Tailored To Suit You
On our Tailor-made trips, we give you the flexibility and choice to do things just the way you want, all alongside the great service we're famous for.
Whether you're travelling solo, with a partner, family, extended family or as group of friends we'll customise your arrangements to suit your exact needs and budget. Our Tailor-made trips are designed for your needs and you don't have to join other travellers like you would on a group tour. Just tell us what you'd like to see and when you'd like to go, and we'll design the perfect holiday for you.
The Tailor-made itineraries we've suggested are designed to give you an idea of what you could do with us, they can be booked as they are, or adapted to suit you. If you'd like to change any aspect of the trips you see, please get in touch. If you aren't quite sure of what you want to do, that's no problem either! One of our experienced travel consultants can make suggestions then together you can tweak until it's the perfect fit.
