Vibrant market streets. Mouth-watering food. Fragrant Buddhist temples. Awaken your senses with an award-winning tour to Vietnam.
It's easy to lose yourself in the bustle of Vietnam. From ancient Buddhist temples to French colonial architecture, you'll discover an unforgettable culture that's worlds away from home.

You might be hoping to dive into the captivating history. Maybe you can't wait to tuck into the incredible street food. Or perhaps you're after the breathtaking scenery of Halong Bay. However you want to experience Vietnam, our holidays will effortlessly bring your plans to life.

And with our award-winning service, you can forget about the logistics. We know Vietnam. We also know how to piece together a trip you'll never forget. So, leave the details to us and you can focus on having that adventure of a lifetime.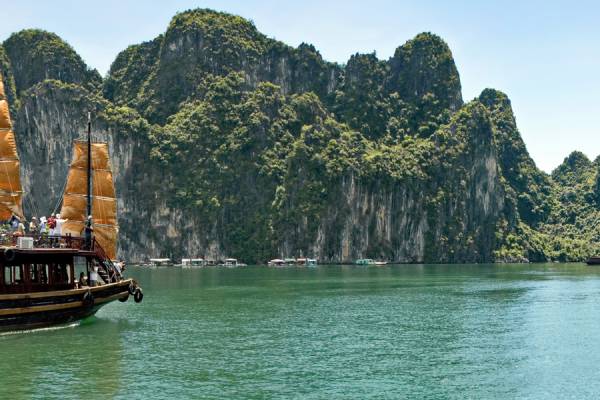 Experience Vietnam your way. Whether that's lounging on the brilliant beaches or getting to grips with the country's unique history - we can piece together a Tailor-made trip that works around you.

Only you know what makes you tick. From your ideal type of hotel to your must-see destinations, we can plan a Tailor-made trip that's right up your street. Simply fill us in with your budget and timeframe and we'll start planning your once-in-a-lifetime holiday to Vietnam.

Click here to build your trip.
Vietnam Day Tours and Excursions
Delve into Vietnam's fascinating cities from Hanoi in the north to Saigon in the south, via the historic trading port of Hoi An, the beach resort of Nha Trang and the imperial citadel of Hue, all with our range of day trips and activities.
Vietnam tour reviews
Scoring an average traveller rating of 4.89 out of 5 based on 53 recent reviews — See All Vietnam Reviews
"
Hi, just wanted to say Tuan is a fantastic tour guide, he is so suited to this job, although travelling with him you realise this is not just a job for him, his knowledge and passion for his country is very evident. He made us all feel like we were part of his family. Tuan is a real asset to your organisation, this was my first on the go experience and I have to say there was nothing I could fault. My very Vietnam experience was truely amazing. Thank you!"
Julie Khan
• Submitted 10 Apr 2020
"
Everything we bargained for and more.
Everyone in our group commented on what an happy group ours was but for me this was all down to our guide Hung.To bring our group together the way he did was commendable,especially as we were all from different back grounds & nationalities.
The organisation was second to none and effortless for the group who really didn't lift a finger, I suspect Hung worked even harder when out of the groups sight especially with the situation of Covid 19. "
Kevin
• Submitted 1 Apr 2020
"
Amazing insight into Laos & Vietnam culture, country, people, food & history. Tour was cut short due to Covid 19 so we never made it to Cambodia. However the one thing to stand out during the holiday was the quality, professionalism and enthusiasm of our guide in Vietnam Mr Hung Do.
This was our second OTG tour in two years during which we experienced several guides and Mr Hung Do stands head and shoulders above the others. Unfortunately our holiday will always be remembered for the Virus, but right until we had to leave Mr Hung Do put his customers first and went out of his way to ensure our holiday was disrupted as little as possible.
I am a person who will always complain given half a chance, but on this occasion Mr Hung Do saved the day and I sincerely hope he and his family remain safe and well so that we can complete the tour with him when this is all over. "
Alan
• Submitted 31 Mar 2020
Frequently asked questions about our touring holidays in Vietnam
I hear Halong Bay is Vietnam's star attraction. How will I experience this on your tours?
You're right - Halong Bay is one of Vietnam's best sights and for that reason we include an overnight visit on all our tours that start in Hanoi. You'll explore the UNESCO-listed landscape by way of a traditional wooden junk boat with swim stops, row boat excursions and visits to caves and grottoes. The junk boat is a highlight in itself with meals served on board and a morning Tai Chi class on offer.
What if I want to extend my holiday with a trip to Angkor Wat?
If you want to tack on a side visit to Cambodia to explore the incredible temples of Angkor then our
Journey to Angkor Wat
itinerary is the perfect tour for you. Not only does it combine the highlights of Vietnam from north to south, it also includes six days in Cambodia with guided sightseeing of Angkor's most popular temples, including the world-famous Angkor Wat.
Do your Vietnam holidays include a visit to the Cu Chi tunnels?
Our Vietnam and Cambodia combo tours all include a guided visit to the Cu Chi Tunnels where you can walk the bush trails and crawl sections of the tunnels. For all tours ending in Saigon you can opt for our 2 day
Cu Chi Tunnels bolt on
.
What sort of transport do you use?
You'll experience a real mix of transportation in Vietnam from deluxe junk boats to overnight sleeper trains, economy class flights to bicycles. Some modes of transport are chosen to ensure our itineraries are as time-efficient as possible while others are fun means of getting from A to B that the locals themselves use regularly. For more information of what to expect on a junk boat and overnight sleeper train, head over to the
Top Travel Tips page
.
Are there alternatives to the bike ride from Hoi An to Tra Que on these Vietnam trips?
During our time in Hoi An we include a day's excursion to the rural village of Tra Que, travelling there by bike. It's a scenic cycle ride but if you prefer not to travel by bike, you can take a local taxi instead. On every departure around 2-4 travellers will opt for the taxi ride and your tour guide will arrange this for you. You'll meet the rest of the tour group at the village and participate in the activities as planned. The cost of a taxi is around USD $1-2 per person and is by tuk-tuk, a fun way to travel in Vietnam.
What type of accommodation will I be staying in?
Enjoy the comfort and amenities of 4 star hotels on our Vietnam holidays. From contemporary city hotels to handsome riverside properties, our accommodation has been selected for their location, service and facilities. You'll spend one night on a deluxe junk boat for a taste of the Orient as you cruise the emerald waters of Halong Bay.
How big are your Vietnam tour groups and what is the age of your travellers?
The average group size is 18 in Vietnam and our trips attract a real variety of ages. You are likely to be travelling with people ranging in age from the 20s to the early 70s. The average age is somewhere around 50 years old.
I want to avoid the monsoon rains. When do you recommend I visit?
When it comes to the rains, it's best to divide Vietnam into three distinct regions - north, central and south. When it's wet in one region it could be dry and sunny in another. However, generally speaking February to April is considered the ideal time to travel across Vietnam as most destinations experience their lowest rainfall at this time of year. And temperatures are also pleasantly warm. For more information consult our
best time to visit Vietnam page
.
Safe, secure and stress free
Unforgettable trips to Vietnam don't come around very often. When the time comes, we know you don't want to stress over the small things. Or navigate time-consuming travel arrangements. That's why we'll sort everything; leaving you to make the most of your experience.

From the moment you book with us, you can relax. All of our group tours and trips to Vietnam are ABTA and ATOL protected. And when you arrive, our award-winning local guides will make sure your trip is hassle-free, from start to finish.
Highlights of our Vietnam tours
Laid back locals, bustling city streets and stunning scenery are just some of the reasons travellers fall in love with Vietnam. And on our award-winning tours, you can experience it all.
Sail around the emerald waters of Ha Long Bay, a sight travellers flock from all around the globe to see. Find a tour.
Spend three nights in picturesque Hoi An with a guided walking tour of the historical quarter and a day's cycling excursion to a local rural village with free time to enjoy Hoi An at leisure. Find a tour.
Explore the sprawling rivers of the Mekong Delta, taking in floating markets, pagodas and rice paddies as you go. Find a tour.
From the marketplaces of Ho Chi Minh City to the Old Quarter in traditional Hanoi, immerse yourself in the lively streets. Find a tour.
Exciting Days, Comfortable Nights
Our Signature group tours place local interaction and authenticity at the heart of your travel experience.
For our Signature range, we maximize your days with excitement and then bring you home to specially selected accommodation with extra character, convenience and comfort, whether that's a five-star river boat on the Nile or a traditional Japanese Ryokan. Accommodation in this range features comfortable western standards, air-conditioning, WiFi and, where appropriate, a swimming pool.
On a Signature holiday, you'll be escorted throughout your trip by our qualified English-speaking local guides who'll show you all the must-see attractions and even the lesser-known sights.
To further add to that special touch, the group sizes in our Signature range are mid-sized: small enough to be intimate, but large enough that you can bond with new friends over common interests.
Tailored To Suit You
On our Tailor-made trips, we give you the flexibility and choice to do things just the way you want, all alongside the great service we're famous for.
Whether you're travelling solo, with a partner, family, extended family or as group of friends we'll customise your arrangements to suit your exact needs and budget. Our Tailor-made trips are designed for your needs and you don't have to join other travellers like you would on a group tour. Just tell us what you'd like to see and when you'd like to go, and we'll design the perfect holiday for you.
The Tailor-made itineraries we've suggested are designed to give you an idea of what you could do with us, they can be booked as they are, or adapted to suit you. If you'd like to change any aspect of the trips you see, please get in touch. If you aren't quite sure of what you want to do, that's no problem either! One of our experienced travel consultants can make suggestions then together you can tweak until it's the perfect fit.
