Sensational scenery. Marvellous mountains. Captivating charm. And a peaceful feel. Let On The Go Tours take you to brilliant Bhutan
Touch down in beautiful Bhutan. Welcome huge Himalayan mountain ranges, remarkable rivers, and stunning scenery. Untouched by modern civilisation; it's ancient culture and natural environment preserved. Bhutan holds a unique, blissful and otherworldly feel. Since opening its doors to the western world in 1974, it's natural beauty and hospitable charm has captivated travellers. The Bhutanese culture is deeply rooted in its Buddhist beliefs, where fluttering prayer flags, chortens and white washed fortresses abound.
Read More
Hop on an extraordinary Bhutan trip in 2020 and 2021, some of which combine Bhutan with neighbouring Nepal, giving you the best of these two stunning Himalayan Kingdoms. If you would like to tailor a trip to Bhutan specifically to your requirements, we'd be delighted to help craft your dream holiday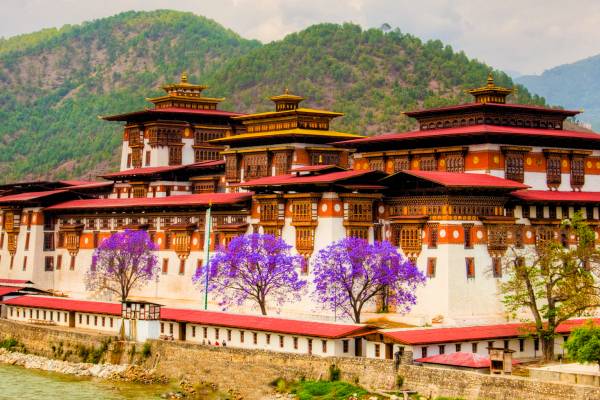 Witness the natural wonders and rich culture of Bhutan on a Tailor-made holiday. Roam through rugged Himalayan Mountains. Explore captivating towns and ancient temples. Attend one of Bhutan's colourful festivals. Whatever it may be, our team can create your dream holiday, Tailor-made to your tastes, budget and time-frame. We recommend activities that perfectly complement your itinerary, suggest destinations off the beaten track, handpick unique things to see and do, and recommend the best time to visit, ensuring that your holiday to Bhutan is truly unforgettable.
Tiger's Nest Monastery
The sacred mountain-side temple complex
Located on a cliff-side of the upper Paro valley, the Tiger's Nest Monastery is one of Bhutan's most sacred spiritual sites and a spectacular sight to behold Built in the 17th century, the monastery has become Bhutan's cultural icon. A steep ascent leads through tree-lined terrain, mist and clouds leads to the Tiger Nest Monastery for a truly unforgettable experience.
Highlights of our Bhutan tours
The Himalayan Kingdom of Bhutan is a treasure trove of magnificent Buddhist temples and monasteries, mighty forts and palaces, and untouched mountainous scenery. Here's a selection of the best of them to get you started with your holiday planning.
Bhutan's capital city Thimpu is a thriving, modern region. The perfect place for tourists to embrace Bhutanese culture. The general way of life there consists of a fascinating mix of the contemporary and antique, allowing its population to modernise without forsaking its cultural heritage and identity. Some unusual features of this city are its traffic-light-free streets and its dry Tuesday, when the sale of alcohol is prohibited.
Picturesque Punakha is simply stunning. Packed full of history. The spectacular Himalayas in the background, it sits at the confluence of the powerful Pho Chhu and Mo Chhu rivers, and is filled with beautiful white and terracotta buildings. Every year the town transforms into a hub of activity as the Punakha festival takes place, commemorating the country's victory against the Tibetan army through re-enactments of the battle. It is an incredibly important showcase of Bhutanese culture.
Wangdue spreads itself across almost 4,500 square kilometres, making it among the largest districts in Bhutan. The region also ranges dramatically in altitude allowing for a wonderfully diverse collection of wildlife with red pandas and spotted eagles among some of the creatures to keep an eye out for. Wangdue also hosts an annual festival in celebration of the black-necked crane, designed to spread awareness of their rare and endangered status.
The expansive Gangtey valley is one of Bhutan's most beautiful places and something of a rarity in the mountainous kingdom. Of interest in the region is the elaborate Gangteng monastery, the only one west of the Black Mountains and an important centre for Nyingmapa Buddhism. Gangtey and the surrounding valley are also the home of the endangered black-necked crane and many fortunate bird-watchers have spotted the creature from the local information centre, using its powerful telescopes.
Bumthang is known as religious epicentre of Bhutan and boasts some of the country's oldest places of worship. The region is nestled in valleys surrounded by dramatic mountains covered in rich green foliage. Imbued with centuries of religious legend, the spiritual Bumthang has a number of intriguing temples and monasteries worthy of attention including Jambay Lhakhang which originally dates back to the 7th century.
Exciting Days, Comfortable Nights
Our Signature group tours place local interaction and authenticity at the heart of your travel experience.
For our Signature range, we maximize your days with excitement and then bring you home to specially selected accommodation with extra character, convenience and comfort, whether that's a five-star river boat on the Nile or a traditional Japanese Ryokan. Accommodation in this range features comfortable western standards, air-conditioning, WiFi and, where appropriate, a swimming pool.
On a Signature holiday, you'll be escorted throughout your trip by our qualified English-speaking local guides who'll show you all the must-see attractions and even the lesser-known sights.
To further add to that special touch, the group sizes in our Signature range are mid-sized: small enough to be intimate, but large enough that you can bond with new friends over common interests.
Tailored To Suit You
On our Tailor-made trips, we give you the flexibility and choice to do things just the way you want, all alongside the great service we're famous for.
Whether you're travelling solo, with a partner, family, extended family or as group of friends we'll customise your arrangements to suit your exact needs and budget. Our Tailor-made trips are designed for your needs and you don't have to join other travellers like you would on a group tour. Just tell us what you'd like to see and when you'd like to go, and we'll design the perfect holiday for you.
The Tailor-made itineraries we've suggested are designed to give you an idea of what you could do with us, they can be booked as they are, or adapted to suit you. If you'd like to change any aspect of the trips you see, please get in touch. If you aren't quite sure of what you want to do, that's no problem either! One of our experienced travel consultants can make suggestions then together you can tweak until it's the perfect fit.
