Sacred sites, city streets, and sunny stretches of sand and sea. Immerse yourself in Israel on an award-winning tour.
It's pilgrimages to sacred sites. It's exploring city streets, old and new. It's lying back on sun-soaked beaches. It's the heights of northern mountains, to the depths of the Dead Sea.

Israel. A holy land of ancient tales, unwavering faith, and striking spirituality. But with twists at every turn, Israel tempts and enchants travellers on any type of adventure.

Our Israel holidays and group tours are led by expert guides. They'll fill you in on the insider information - and the local secrets. And in your group of like-minded adventurers, you'll make life-changing memories and life-long friends.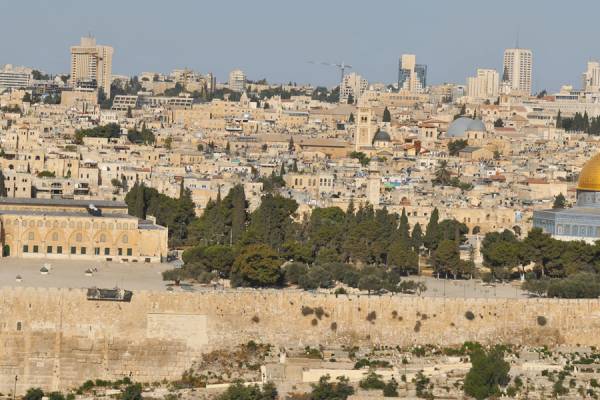 Only you know where your Israel tour should take you. So fill us in and we'll get to work.

Headed for the city streets, the religious centres, or the crystal clear coastlines? Consider it done.

We're passionate about providing exceptional service. And about crafting unforgettable Tailor-made adventures.

Talk to us about your ideal Israel. Our team of Tailor-made travel experts can't wait to get started.
Israel Day Tours and Excursions
Camel rides and canyon tours. Religious sites and the Dead Sea. Make every moment of your Israel holiday count with our range of day trips.
Israel tour reviews
Scoring an average traveller rating of 4.5 out of 5 based on 6 recent reviews — See All Israel Reviews
"
Excellent Tour from start to finish!
Very easy to book and all information supplied included. "
Linda Evans
• Submitted 27 Apr 2020
"
Interesting and enjoyable trip
Well organised, good hotels, tour guides had good knowledge. "
Kay Watkins
• Submitted 12 Mar 2020
"
Knowledgeable guides, active itineraries, good accommodation. The different stages of being handed over between various guides, drivers, and hotels worked smoothly. The advice given by Caroline Shaw who I booked it with was good."
John Galey
• Submitted 22 Nov 2019
Safe, secure and stress free
With On The Go Tours, you're in safe hands. You'll be led by expert guides. And they'll show you the way to authentic Israel, leaving no stone unturned.

We'll do all the planning and paperwork. We'll deal with the legwork and the logistics. It means we can lift the stress from your shoulders. And that means you can focus on what's most important: making every second count.

You can book your Israel trip in confidence. Our tours are ABTA and ATOL protected. They're award-winning, too.
Highlights of Israel
History. Spirituality. Culture. Nature. Experience it all with our range of Israel trips.
A diverse city of entwining histories and clashing cultures. Awaken your senses on Jerusalem's vibrant streets, and explore the scars of its turbulent past. Find a tour.
Where the modern Mediterranean life meets traditional Middle Eastern culture. Head to Tel Aviv for a city break like no other - and an unspoiled stretch of shimmering sea and sand. Find a tour.
Once a quiet village in Roman-ruled Galilee, this lively Arab city now stands as a place of pilgrimage and spirituality. Nazareth defies expectation. Find a tour.
Astounding natural beauty, therapeutic and rejuvenating qualities, and famous buoyant waters. A trip to Israel isn't complete without a dip in the Dead Sea. Find a tour.
Exciting Days, Comfortable Nights
Our Signature group tours place local interaction and authenticity at the heart of your travel experience.
For our Signature range, we maximize your days with excitement and then bring you home to specially selected accommodation with extra character, convenience and comfort, whether that's a five-star river boat on the Nile or a traditional Japanese Ryokan. Accommodation in this range features comfortable western standards, air-conditioning, WiFi and, where appropriate, a swimming pool.
On a Signature holiday, you'll be escorted throughout your trip by our qualified English-speaking local guides who'll show you all the must-see attractions and even the lesser-known sights.
To further add to that special touch, the group sizes in our Signature range are mid-sized: small enough to be intimate, but large enough that you can bond with new friends over common interests.
Iconic Experiences, Local Partners
On our Handpicked range we bring you the most iconic experiences in destinations where you'll join travellers from other travel brands on your tour, safari or sailing holiday. Collaborating with our carefully handpicked portfolio of local partners, these holidays represent exceptional value and there'll be plenty of cultural experiences shared with other like-minded travellers.
Group sizes and accommodation standards vary by destination where typical group size is 28 travellers and hotels, boats and safari lodges are of a 3-4 star standard.
Tailored To Suit You
On our Tailor-made trips, we give you the flexibility and choice to do things just the way you want, all alongside the great service we're famous for.
Whether you're travelling solo, with a partner, family, extended family or as group of friends we'll customise your arrangements to suit your exact needs and budget. Our Tailor-made trips are designed for your needs and you don't have to join other travellers like you would on a group tour. Just tell us what you'd like to see and when you'd like to go, and we'll design the perfect holiday for you.
The Tailor-made itineraries we've suggested are designed to give you an idea of what you could do with us, they can be booked as they are, or adapted to suit you. If you'd like to change any aspect of the trips you see, please get in touch. If you aren't quite sure of what you want to do, that's no problem either! One of our experienced travel consultants can make suggestions then together you can tweak until it's the perfect fit.
