Timeless culture. Remarkable history. Captivating caves. Taste-bud tingling food. Feel inspired on an award-winning tour to Laos.
Once ravaged by war but still home to serene landscapes and a proud identity, an On The Go Tour in Laos throws you into a timeless authentic culture. Explore exquisite Buddhist temples, bustling night markets and food stalls, and charming caves. Largely forgotten Lao holds a unique feel. Say hello to stunning scenery littered with waterfalls, rivers and cosy caves. Tuck into sticky rice and minced meat salad and blend in lazing with the locals. Hop on a hassle-free tour to the heart of Lao. Let us give you an adventure of a lifetime.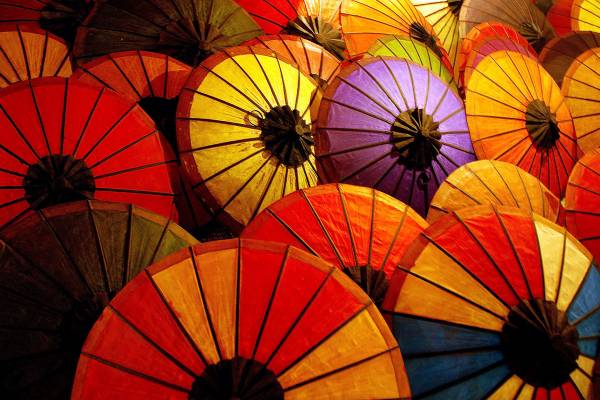 Explore Lao your way. Our Tailor-made team make it effortless for you. Letting you have the dream holiday you've always wanted. Whether after a quick adventure or slower paced saunter, our Tailor-made team have you covered. Make every moment count. Tell us what you want and we'll make it happen.
Laos Day Tours and Excursions
Try your hand at Laotian cuisine, bathe in the beautiful waters of Kuang Si, explore the Pak Ou Caves, embark on a sunset cruise down Mekong River, check out local temples. And see more highlights of the city with our day tours in Luang Prabang.
Small but mighty
Southeast Asia's unsung holiday hero
Think captivating colonial cities. Sparkling waterfalls. Incredible caves. Mysterious archaeological sites. Daring hill tribe trekking opportunities off the beaten track. Warm and friendly people. Plentiful temples and Buddhist wats. Deliciously fresh cuisine. Wild boundless landscapes. Rich in war history and with a unique, relaxed feel, Laos deserves a visit. Delight in this wonderful country, with jaw-dropping nature and culture to match.
Highlights of our Laos tours
You're off to Laos but don't know where to start? Here's what to get excited about on our award-winning tours.
Take a vintage tuk tuk tour of the old town visiting the bustling morning market and magnificent Wat Xiengthong temple. Become a local with the Living the Land Farm Experience nearby and learn how rice is made.
Enjoy a guided city tour visiting the country's oldest Buddhist monastery of Wat Si Saket, the famed Emerald Buddha, the Patuxay monument and the COPE Centre.
Explore the famous caves of Tham Jang. Visit scenic villages to meet the locals. Freely bike ride through the lush surrounding countryside of Vang Vieng and take in the beauty of Laos.
Sit back and relax on a scenic boat trip around Laos' 4,000 picturesque Islands. Keep an eye out for the rare Irrawaddy Mekong Dolphin. Gaze in awe before the largest waterfalls in Southeast Asia.
Exciting Days, Comfortable Nights
Our Signature group tours place local interaction and authenticity at the heart of your travel experience.
For our Signature range, we maximize your days with excitement and then bring you home to specially selected accommodation with extra character, convenience and comfort, whether that's a five-star river boat on the Nile or a traditional Japanese Ryokan. Accommodation in this range features comfortable western standards, air-conditioning, WiFi and, where appropriate, a swimming pool.
On a Signature holiday, you'll be escorted throughout your trip by our qualified English-speaking local guides who'll show you all the must-see attractions and even the lesser-known sights.
To further add to that special touch, the group sizes in our Signature range are mid-sized: small enough to be intimate, but large enough that you can bond with new friends over common interests.
Tailored To Suit You
On our Tailor-made trips, we give you the flexibility and choice to do things just the way you want, all alongside the great service we're famous for.
Whether you're travelling solo, with a partner, family, extended family or as group of friends we'll customise your arrangements to suit your exact needs and budget. Our Tailor-made trips are designed for your needs and you don't have to join other travellers like you would on a group tour. Just tell us what you'd like to see and when you'd like to go, and we'll design the perfect holiday for you.
The Tailor-made itineraries we've suggested are designed to give you an idea of what you could do with us, they can be booked as they are, or adapted to suit you. If you'd like to change any aspect of the trips you see, please get in touch. If you aren't quite sure of what you want to do, that's no problem either! One of our experienced travel consultants can make suggestions then together you can tweak until it's the perfect fit.
