Tibet Travel with On The Go Tours
For centuries the Buddhist Kingdom of Tibet was hidden away from the rest of the world, nestled in the vast snow-capped peaks of the Himalayas. A land of mysterious treasures, rich history, sublime beauty and welcoming people, Tibet has long enthralled travellers. With breathtaking mountain peaks, glistening lakes and a wealth of trekking trails, the adventurous will delight in this Land of Snows.
Read More
As the home of the Dalai Lama, and brimming with sacred temples and ancient monasteries draped in prayer flags, Tibet also offers an unique insight into Buddhism. We offer a choice of tours to Tibet in 2020 and 2021, including a guided group tour starting in China and a private itinerary focusing solely on this fascinating country.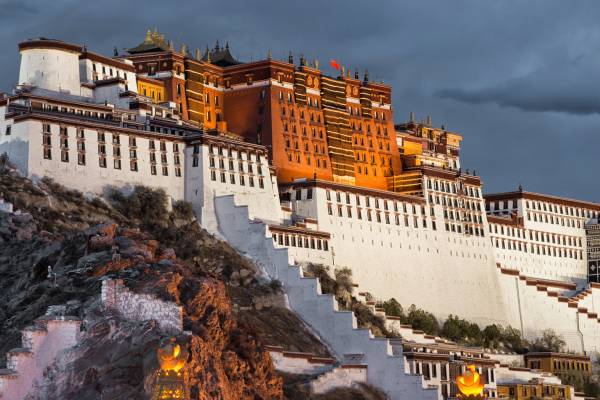 The mystical "roof of the world" is a land of immense natural beauty and unique culture shaped by Buddhism and left untouched until the 1950s, and whether you're looking to explore the incredible capital home to imposing palaces and impressive temples, or head off the beaten track for stunning high altitude lakes and open grasslands, we're here to help. Our Tailor-made team are on hand to create your perfect holiday to Tibet, building the perfect itinerary for your individual requirements and interests.
Monasteries and mountains
Travelling beyond Lhasa
Outside of Lhasa explore the charming town of Gyantse, marvel at the spectacular scenery of Yamdrok Lake – one of Tibet's three sacred lakes, visit a myriad of ancient monasteries and sacred temples in Shigatse – Tibet's second most important city, and discover Yumbulakhang Palace – the oldest palace in Tibet.
Recommended places to visit in Tibet
Nestled between China and Nepal along the Himalayan mountain range, Tibet is certainly not short on incredible natural scenery and panoramic vistas but it's also home to imposing palaces and peaceful monasteries - here's our pick of the best:
In English Namtso translates as "heavenly lake", an apt definition for this stunning stretch of water. Sitting at almost 5,000m above sea level, it is officially the highest saltwater lake on the planet. For those seeking some tranquillity, the lake is the perfect place to have a wander and forget about the chaos of life. Yaks and goats roam freely around the lake and in the crystal clear water fish splash about, making for some wonderful Kodak moments.
This ancient city is Tibet's second largest and sits at an altitude of 5,200m. Throughout the region are several intricately designed monasteries, giving Shigatse an air of spiritualism. Furthering this is the fact that the city is the residence of the Panchen Lama, the second most important lama after the Dalai lama. Visitors should take the time to check out his palace whilst in Shigatse.
The mystical aura of Tibet is wholly imbued into the city of Lhasa. There are koras (walking paths) that encircle most sacred sites, which are worth taking the time to wander along. The rich heritage of the city is prevalent in many of the ancient establishments scattered throughout the region. The Nyetang Lhachemo temple and the Ani Tsamkhung nunnery are two sites that should definitely be visited in order to learn more about this culture.
Historic Gyantse wins over those who visit with its relaxed ambiance and small-town vibe, despite once being one of the most important cities in Tibet. Its main attraction is the magnificently constructed Kumbum, a tiered collection of Buddhist chapels with white washed walls covered in intricate patterns. Other sites of interest include the Gyantse Dzong, a fortress built into the side of a rocky cliff face, and the Pala Manor, a well-preserved noble residence.
A small city sitting at a height of 3,100m, Tsedang is a popular destination for visitors to Tibet and is referred to as the "cradle of Tibetan civilisation". To the east of the city are majestic mountains, within which are three large caves, one of which is, according to legend, the birthplace of the Tibetan people. From Tsedang it is a short journey to visit the country's oldest monastery in Tibet, the Samye Monastery, which was built in 779 AD.
Exciting Days, Comfortable Nights
Our Signature group tours place local interaction and authenticity at the heart of your travel experience.
For our Signature range, we maximize your days with excitement and then bring you home to specially selected accommodation with extra character, convenience and comfort, whether that's a five-star river boat on the Nile or a traditional Japanese Ryokan. Accommodation in this range features comfortable western standards, air-conditioning, WiFi and, where appropriate, a swimming pool.
On a Signature holiday, you'll be escorted throughout your trip by our qualified English-speaking local guides who'll show you all the must-see attractions and even the lesser-known sights.
To further add to that special touch, the group sizes in our Signature range are mid-sized: small enough to be intimate, but large enough that you can bond with new friends over common interests.
Tailored To Suit You
On our Tailor-made trips, we give you the flexibility and choice to do things just the way you want, all alongside the great service we're famous for.
Whether you're travelling solo, with a partner, family, extended family or as group of friends we'll customise your arrangements to suit your exact needs and budget. Our Tailor-made trips are designed for your needs and you don't have to join other travellers like you would on a group tour. Just tell us what you'd like to see and when you'd like to go, and we'll design the perfect holiday for you.
The Tailor-made itineraries we've suggested are designed to give you an idea of what you could do with us, they can be booked as they are, or adapted to suit you. If you'd like to change any aspect of the trips you see, please get in touch. If you aren't quite sure of what you want to do, that's no problem either! One of our experienced travel consultants can make suggestions then together you can tweak until it's the perfect fit.
