Lavish palaces. Sprawling cities. Cross-continental train journeys. Explore the Land of the Tsars with On The Go Tours
A tumultuous history of kings, queens and communism. With many secrets just waiting to be uncovered. It's the central Red Square of Moscow. It's the famous Nevsky Prospekt in St Petersburg. It's the hidden delight of the Golden Ring. And it's the thundering Trans-Siberian Railway.

Our Russia holidays get you to the very middle of the action. To Lenin's Mausoleum. To the Kremlin. To the Russian ballet.

But don't just take our word for it. Our Russia tours have won British Travel Awards. Meaning you can forget about the hassle, and just enjoy the ride.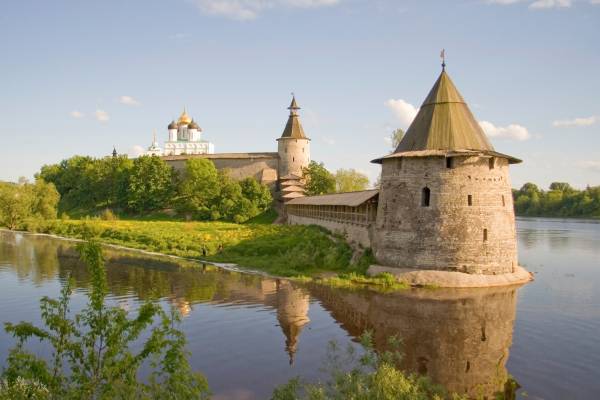 Whatever it is that brings you to Russia, we've got an expert Tailor-made team ready to put together the perfect holiday for you.
Whether you want to explore the popular cities or Moscow or St Petersburg, go further afield to Yekaterinburg and Lake Baikal sampling the Trans-Siberian railway, or take a cruise on the Volga or Neva rivers, we can build the perfect itinerary for you. Best of all? It's completely unique and built around your particular requirements from preferred accommodation to departure date.
Russia Day Tours and Excursions
Get to know mighty Moscow and beautiful St. Petersburg with our range of day tours and activities in Russia's most popular cities. Perfect if you've got a day or two spare as part of your holidays in Russia!
Russia tour reviews
Scoring an average traveller rating of 4.55 out of 5 based on 11 recent reviews — See All Russia Reviews
"
Very quick to respond to queries. Kept us updated with information well, including altering letters for visa when information was entered incorrectly. Would buy from them again!"
Andrew Jackson Higgins
• Submitted 5 Mar 2020
"
Friendly and efficient
My OTG Consultant was friendly, quick to respond and very positive about the program having been there herself. "
Claire Williams
• Submitted 7 Jan 2020
"
OTG are experts at handling customer enquiries and were great throughout – they promptly answered any emails I sent and the booking system was so easy. Absolutely no complaints with the customer service "
Alice Antonov
• Submitted 15 Sep 2019
Escape to Russia this winter
Spend the Festive Season in Moscow and St Petersburg
On our Christmas and New Year Russia holidays, you'll not only see the sights of Moscow and St Petersburg, but enjoy a few wintertime activities such as ice skating and cross country skiing. With beautiful snow covered landscapes along the way, what's not to love?
Highlights of our Russia tours
Russia is huge, there's no denying that, and the number of worthy travel destinations is equally impressive from mighty cities to gorgeous countryside. And you'll find a combination of both on our range of tours including these must-see attractions:
Get around Russia's capital by Metro for impressive Stalin-era stations, enjoy a guided walking tour of Red Square, explore the mighty Kremlin and take time at leisure to do your own thing.
See the magnificent St Isaac's Cathedral, visit the Church on Spilled Blood, discover the art collections of the renowned Hermitage and tour either the Peterhof or Catherine Palace.
Discover one of Russia's oldest cities with a tour of the magnificent fortified Kremlin and the attractive gold-domed cathedral while enjoying the scenic riverside location.
Take a walking tour around the centre of medieval Suzdal to see the Kremlin, Market Square and Alexander monastery before stepping back in time at the Museum of Wooden Architecture.
Enjoy rural Russian during the snow-laden winter months with ice-skating on a frozen lake, time spent relaxing in a traditional banya and touring of the Pskov Kremlin and Pechory monastery.
Have a taste of the Trans-Siberian Railway with a train ride from Moscow and a guided walking tour of Yekaterinburg on your arrival with a trip to the Ganina Yama Monastery.
Exciting Days, Comfortable Nights
Our Signature group tours place local interaction and authenticity at the heart of your travel experience.
For our Signature range, we maximize your days with excitement and then bring you home to specially selected accommodation with extra character, convenience and comfort, whether that's a five-star river boat on the Nile or a traditional Japanese Ryokan. Accommodation in this range features comfortable western standards, air-conditioning, WiFi and, where appropriate, a swimming pool.
On a Signature holiday, you'll be escorted throughout your trip by our qualified English-speaking local guides who'll show you all the must-see attractions and even the lesser-known sights.
To further add to that special touch, the group sizes in our Signature range are mid-sized: small enough to be intimate, but large enough that you can bond with new friends over common interests.
Iconic Experiences, Local Partners
On our Handpicked range we bring you the most iconic experiences in destinations where you'll join travellers from other travel brands on your tour, safari or sailing holiday. Collaborating with our carefully handpicked portfolio of local partners, these holidays represent exceptional value and there'll be plenty of cultural experiences shared with other like-minded travellers.
Group sizes and accommodation standards vary by destination where typical group size is 28 travellers and hotels, boats and safari lodges are of a 3-4 star standard.
Tailored To Suit You
On our Tailor-made trips, we give you the flexibility and choice to do things just the way you want, all alongside the great service we're famous for.
Whether you're travelling solo, with a partner, family, extended family or as group of friends we'll customise your arrangements to suit your exact needs and budget. Our Tailor-made trips are designed for your needs and you don't have to join other travellers like you would on a group tour. Just tell us what you'd like to see and when you'd like to go, and we'll design the perfect holiday for you.
The Tailor-made itineraries we've suggested are designed to give you an idea of what you could do with us, they can be booked as they are, or adapted to suit you. If you'd like to change any aspect of the trips you see, please get in touch. If you aren't quite sure of what you want to do, that's no problem either! One of our experienced travel consultants can make suggestions then together you can tweak until it's the perfect fit.
