An unforgettable whirlwind of marketplaces, exotic cities and spicy aromas. Allow us to transport you to Morocco, in award-winning style.
The enchanting spirit of Morocco. It's a camel trek across the Sahara Desert. It's bartering with local merchants in the teeming souks of Marrakech. It's discovering an exotic oasis in the midst of all the clamour. And it attracts travellers from all over the globe.

On The Go Tours places you in the very heart of all the bustle. Our local guides know Morocco. They know where to find the best couscous, and they know how to navigate the market streets of Marrakech. Their expertise means you can forget about the tricky details - and focus on making memories with fellow travellers.

Our Morocco trips win British Travel Awards for a good reason. With our exceptional attention to detail, you can rest assured you'll return with Moroccan memories that last a lifetime.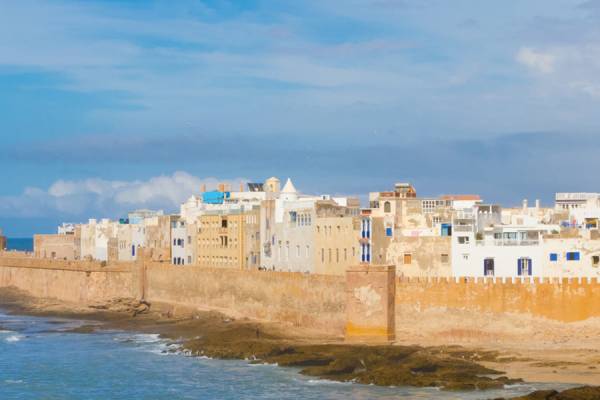 A holiday to Morocco, built around you. With our award-winning expertise - and your appetite for adventure - we can craft a trip that ticks all your boxes. No matter what your budget or time frame look like, we'll design a Moroccan holiday just for you. Let us know what you want to experience, and our Tailor-made team will get to work. Click here to get started.
Morocco Day Tours and Excursions
Our Morocco day tours and excursions are one of a kind. From camel trekking at sunset to cooking authentic Moroccan recipes, our savvy guides will open your eyes to a culture like no other.
Morocco tour reviews
Scoring an average traveller rating of 4.78 out of 5 based on 40 recent reviews — See All Morocco Reviews
"
This was a great tour through Morocco! There was quite a bit of time spent on the bus but the stops to see the sites and breaks were timed perfectly. It allowed us to see so much of Morocco in a short amount of time.
What really made this trip extra special was our tour guide Hicham! He was so friendly, professional, knowledgeable and had an infinite amount of patience. You could tell that he is very proud of his country - as he should be!
When I arrived, I mentioned that I was sad about missing Chefchaoen and he went out of his way to make sure we could add it to our itinerary (luckily the other 2 people on the trip also wanted to go). It was a highlight for me!
This was my second On The Go tour. The first tour was amazing (Pyramids, Petra and Promised Land) so the bar was set high but Hicham and Hussein made this trip just as memorable!"
Tina Ebrahim
• Submitted 30 Nov 2021
"
What an incredible experience! Morocco is a magical destination where you can see diverse landscapes, and experience a unique blend of old and new where the Middle East meets Africa. We saw everything from the mountains to the sea. We ate authentic Moroccan cuisine, shopped in the exotique souks, and were welcomed by the warm hospitable people of Morocco. But it was our tour guide Hicham who made the tour a success. Without his calm, professional, and dynamic personality the tour would not have been the same. Hicham handled any issues that arose with ease and gave us a real education about the county and the culture. His willingness to share his life experiences as a Berber, gave us incredible insight into Morocco. The hotels varied from luxurious to very basic. There were large distances to cover in the tour bus to get from place to place, but if you want to see "all" of Morocco there is no other option. I highly recommend Morocco as a tour destination, especially if you're lucky enough to be shown around by Hicham!"
Petal Mashraki
• Submitted 23 Nov 2021
"
Morocco - Hand over Heart - Hicham and Hussein made it SO special
After months of extremely patient planning with Lee S. and his local (Caroline / Rachna / Terri) AND overseas support Teams...I have returned from another outstanding and successful trip with On the Go to the beautiful Kingdom of Morocco. As a repeat traveler, I can emphatically say that On the Go's difference lies in their responsive customer service, value and excellent local guides - no wonder they are award winning!
What we have seen of Morocco has far exceeded our expectations - it is a very special destination that is ready to re-welcome the world. Getting to know the history of its land and peoples, marveling at the changing landscapes on our drive, feasting on the local foods and specialties and experiencing the achingly beautiful historical sites and marveling at the contrast of modernity in its capital were a balanced counter-point - all this is just the tip of the iceberg. The tour itinerary was interesting and highly varied plus we felt safe and secure from the moment we were met at the airport to the day we departed.
We appreciated our stays at both traditional riads and modern hotels; both types provided a valuable contrast.
Hicham is the kindest and hardest working guide I have had the pleasure of touring with - extremely hard working, super patient and attentive to the entire group's varied needs. Knowledgeable and proud of his people and country, Hicham's passion for guiding is evident. Paired with our very capable and skilled driver Hussein they are a fantastically dynamic duo.
Put your faith in Hicham and he will deliver with a SMILE- while making anything you ask of him seem possible. He will go out of his way to ensure you have a wonderful experience- even after the official tour has ended - we were able to see special glimpses of the "true" Morocco and are forever grateful!! We were SO fortunate to meet Hicham and now consider him a friend. Hicham is a wonderful, passionate ambassador for his country and for On the Go Tours...he is truly an asset to the the company - consider yourself blessed to be in his capable care. Visit Morocco - with On the Go - you will not be disappointed. Bessaha and Shukran to On the Go, Hussein and Hicham for absolutely everything."
M. Camerino
• Submitted 17 Oct 2021
Frequently asked questions about our touring holidays in Morocco
I want to spend a night in the Sahara - what is your desert camp like?
The desert camp we use in Morocco is a permanent tented camp. Each tent has up to six single beds inside where the group sleeps. Between these tents is an open communal space with Moroccan carpets and tables where the group eats their meals. There are flush toilets on site and a hose for washing. The day you leave the Sahara there will be time for a shower at a hotel in Merzouga before continuing on with the itinerary.
Do I need to bring a sleeping bag?
You won't need a sleeping bag as for the most part you'll be staying in 3-4 star hotels and our desert camp provides all the bedding you need including pillows and blankets. For your own personal comfort, you may wish to bring a sleeping bag liner to use at the desert camp.
How long is the camel trek in the Sahara?
If you choose to spend a night in the Sahara, we journey there by camel for an authentic Berber experience. The camel trek is about an hour and a half. If you prefer to walk then you can walk alongside our camel caravan but bear in mind that walking in sand can be tiring.
Where's the best place to get the local currency?
The Moroccan Dirham is a closed currency, which means you won't be able to get it outside of Morocco. Your best option is to withdraw money from an airport ATM on your arrival into Morocco. The currency exchange services at airports offer notoriously poor rates so withdrawing the money from an ATM is the most cost-effective and easiest way of getting the cash you need for your trip.
Is Moroccan food suitable for vegetarians?
Vegetables feature prominently in Moroccan cuisine so vegetarians should have no issues. It's true that Moroccans like their meat but it's always accompanied by a delicious range of vegetables and grains. There's a huge variety of salads to choose from, soups can easily be made vegetarian-friendly on request and the ubiquitous tagine and couscous dishes come in vegetarian options too.
Do all your tours start in Marrakech?
Many of our tours do start in Marrakech and this is perfect for those in the UK where a number of airlines offer affordable, direct flights between the major cities. However, from elsewhere in the world most airlines fly direct into Casablanca, and this is why we offer a selection of tours that start in this famous city. If you prefer to start your tour in Casablanca then our 9 day
Road to Casablanca
is ideal or if you're looking for something longer then our 13 day
Casablanca to Essaouira
is another great option.
How big are your tour groups and what is the age of your travellers?
The average group size on our Morocco holidays is between 10-12 travellers. As with all of our destinations, you can expect a real mix of ages ranging from those in their 20s to those in their 70s.
What is the standard of hotels on your trips?
On our Signature product you'll be staying in a mix of 4 star modern hotels and traditional Moroccan riads. This gives you a chance to experience the local hospitality and stay in accommodation that reflects the character of Morocco. On our Adventure range of tours in Morocco the standard of accommodation is equivalent to a Western 3 star.
What sort of transport do you use and how much time is spent driving?
We use comfortable, modern mini-vans with air-conditioning and good-sized windows through which to enjoy the passing views. There is a fair distance to cover in Morocco, especially if you want to see the main highlights. To reach the Sahara the drive time is around six hours, followed by a camel trek to get deep into the surrounding dunes. The longest day of travel is the journey between Fes and Erg Chebbi. It's a full day of driving but thankfully it's a wonderfully scenic drive with a stop at the lovely alpine-style town of Ifrane located in the High Atlas Mountains. On our Signature tours you'll have the opportunity to wander around what is described as the 'Switzerland of Morocco'. Most other journeys are far shorter and the majority of your days will be spent out and about sightseeing.
When is the best time to visit Morocco for general sightseeing?
Spring (March - May) and autumn (September - November) are the best times to visit Morocco. At these times of the year you can expect pleasant temperatures and plenty of sunshine. The landscape is particularly lovely in spring when it's green and lush while autumn provides the best weather conditions for trekking. For more information visit our
best time to visit Morocco
page.
You're in safe hands
Whether you're travelling solo or bringing a friend, we know booking a group tour can feel daunting. That's why our group tours are designed to help you meet like-minded adventurers.

From the moment you book with On The Go Tours, you can relax. We won't charge fees if you pay with a credit card. On our Signature tours, we'll refund your deposit if plans change. And all of our group tours to Morocco are fully protected, should anything happen.

We know life can be unpredictable. But there's one thing you can be sure of — and that's our commitment to exceptional service, every time.
Highlights of Morocco
Exploring Morocco is like taking your senses on an adventure. Soak up the electric atmosphere and breathe in the exotic aromas, as we take you on an unforgettable journey.
Marketplaces are the cornerstone of Moroccan commerce. Put your haggling skills to the test on the busy streets of Marrakech and Fes. Find a tour.
Watch the sun descend over the sensational Sahara Desert, enjoy a camel ride and fall asleep under the stars. Priceless. Find a tour.
Spend a few days at leisure beside the Atlantic Coast in the charming town of Essaouira and explore the walled medina, long sandy beach and excellent offering of restaurants and shops. Find a tour.
Wander the ancient realms of Ait Benhaddou, a striking example of Moroccan architecture and a fascinating UNESCO heritage site. Find a tour.
Exciting Days, Comfortable Nights
Our Signature group tours place local interaction and authenticity at the heart of your travel experience.
For our Signature range, we maximize your days with excitement and then bring you home to specially selected accommodation with extra character, convenience and comfort, whether that's a five-star river boat on the Nile or a traditional Japanese Ryokan. Accommodation in this range features comfortable western standards, air-conditioning, WiFi and, where appropriate, a swimming pool.
On a Signature holiday, you'll be escorted throughout your trip by our qualified English-speaking local guides who'll show you all the must-see attractions and even the lesser-known sights.
To further add to that special touch, the group sizes in our Signature range are mid-sized: small enough to be intimate, but large enough that you can bond with new friends over common interests.
Iconic Experiences, Local Partners
On our Handpicked range we bring you the most iconic experiences in destinations where you'll join travellers from other travel brands on your tour, safari or sailing holiday. Collaborating with our carefully handpicked portfolio of local partners, these holidays represent exceptional value and there'll be plenty of cultural experiences shared with other like-minded travellers.
Group sizes and accommodation standards vary by destination where typical group size is 28 travellers and hotels, boats and safari lodges are of a 3-4 star standard.
Tailored To Suit You
On our Tailor-made trips, we give you the flexibility and choice to do things just the way you want, all alongside the great service we're famous for.
Whether you're travelling solo, with a partner, family, extended family or as group of friends we'll customise your arrangements to suit your exact needs and budget. Our Tailor-made trips are designed for your needs and you don't have to join other travellers like you would on a group tour. Just tell us what you'd like to see and when you'd like to go, and we'll design the perfect holiday for you.
The Tailor-made itineraries we've suggested are designed to give you an idea of what you could do with us, they can be booked as they are, or adapted to suit you. If you'd like to change any aspect of the trips you see, please get in touch. If you aren't quite sure of what you want to do, that's no problem either! One of our experienced travel consultants can make suggestions then together you can tweak until it's the perfect fit.
