India. It's vibrant, energetic and relentlessly fast-paced. Place yourself in the heart of the action with a group tour or Tailor-made trip.
Lose yourself in the sparkling lights of Diwali. Splatter yourself with the bright colours of Holi festival. With our range of India holidays, you'll explore beyond the picture-perfect views of the Taj Mahal. Our trips offer what money can't buy; truly authentic experiences, that stay with you for a lifetime.

Whether you're spotting a Bengal tiger in Ranthambore National Park or sampling curries in the Golden Triangle - the wisdom of our guides will bring the country's captivating culture to life.

Because we know India. In fact, we're specialists. So when it comes to exploring the very best of the country, you can count on us. That's why travellers choose On The Go Tours for once-in-a-lifetime holidays; time and time again.
More India Tours
India Short Stays
View 18 Short Stays
Our short stays in India are an easy way to add on a visit to that extra place or two which may not be included on your chosen group or private tour itinerary. You can also create your own itinerary by combining any number of our short stays into a longer holiday.
Read More
We're also happy to adapt these short stay packages to suit your needs, from upgrading your accommodation to adding more time to explore an interesting location - we're here to tailor things to suit your travel requirements.
Read Less
India Wildlife Tours
View 6 Wildlife Tours
India is home to some of the finest national parks on the planet for spotting deer, leopard, langur, wild boar, rhino, elephant, buffalo and of course, the elusive Bengal tiger. Top picks include Ranthambhore, Kanha and Corbett, where there's a good chance of spotting tiger.
Read More
There are very few places where this rare and enigmatic big cat can still be glimpsed in the wild and India has the highest density of tigers in the world. And for something unique, consider Kaziranga - home to the rare one-horned Indian rhino.
Read Less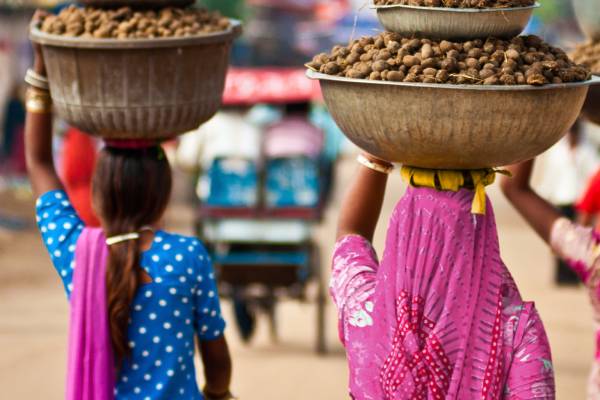 Make the most of India with one of our Tailor-made India holidays. You can even create your own! Whether you'd rather throw yourself into a cultural festival or go wildlife spotting, we can develop a perfect itinerary for you - right down to your specific budget and dates.

Click here to build your own trip.
India Day Tours and Excursions
Watch the sun rise over the majestic Taj Mahal. Take a rickshaw ride through the thriving streets of Delhi. Our day trips and excursions are the perfect opportunity to add a splash of adventure to your holiday.
India tour reviews
Scoring an average traveller rating of 4.58 out of 5 based on 24 recent reviews — See All India Reviews
"
There was always someone to meet us at the destinations. Tour guide Mahi was knowledgable and cared about our wellbeing. We had a great group and we all got on well. This was the first time I had visited India and it has left me with the most wonderful memories I just want to go back. We also did a tour the week before and again the tour guides were friendly and knowledgeable. They also asked us what we wanted to do and never rushed us."
Linda Oram
• Submitted 14 Apr 2020
"
The Holi Festival Tour was a convenient way to see the some of the major sites of India and join the spirit of Holi"
Matthew French
• Submitted 11 Apr 2020
"
Fabulous Trip to India visiting top spots we'd always wanted to see.
We have just returned from a fabulous trip to Amritsar and the Gold Triangle. Our guide, Satendra, was very well-informed, funny and made sure everything ran smoothly. "
Miranda Huntley
• Submitted 16 Mar 2020
Frequently asked questions about our touring holidays in India
I want to see the Taj Mahal - do you include this on your tours?
Yes we do. We include this New World Wonder on all our India group tours that cover the north. You'll spend the afternoon on a guided tour of the Taj Mahal, learning all about why and how it was built. Our visit to Agra also includes guided touring of the Agra Fort.
I'm interested in seeing tigers in India - what options do you have?
India is the best place in the world to see tigers in the wild. There are a number of national parks and wildlife reserves that have been set up to protect the numbers of this endangered species. We have two group tours that include two nights in Ranthambhore National Park where you will go on morning and afternoon game drives in search of the stripey big cat. We also have private itineraries to other parks for tiger safaris. If you want to know more, head to our guide on
tiger spotting in India
.
Should I be worried about food hygiene in India?
Many people worry that they might get sick in India but if you stick to the standard rules of safely eating abroad there's no reason why you should suffer. Stick to busy restaurants, avoid street food or anything that's been sat outside for long and forgo salads as the water is definitely not safe to drink. Indian cuisine is amazingly diverse and forms an integral part of the travel experience so don't be afraid to try new dishes and flavours. Our
Top Travel Tips
page has more info on food and eating out in India.
I'm a second time visitor to India. What can you offer me?
If you've already covered India's popular Golden Triangle, consider visiting the tropical south. The state of Kerala offers sandy beaches, lush waterways and wildlife reserves, and is a great choice for second-time visitors. Our escorted
Captivating Kerala
tour covers the best of the region in a week-long itinerary. Alternatively, we have a range of exciting private itineraries that cover everywhere from the far northeast to the less-visited south. You can also create your dream tailor-made holiday with the aid of our expert team. Get in touch to start planning.
How big are your tour groups and what is the age of your travellers?
On shorter itineraries that cover the
Golden Triangle
and other highlights in India's north, the average group size is around 18 passengers. Once you start travelling further afield on longer tours then this average size drops down to around 8-10 passengers. Our special festival departures are much larger due to the unique nature of the events we cover such as Holi and Diwali. You'll find a real mix of ages on our India holidays, from those in their late 20s to those in their early 70s. The average age is between 45-50 years.
What is the standard of hotels on your trips?
On our India group tours you'll be staying in 3-4 star hotels with a mix of modern and heritage properties. On all tours that visit the main sights of
Rajasthan
you'll get to experience former royal residences and beautiful havelis transformed into tourist accommodation. It'll give you a real insight into the region's cultural and architectural heritage. While in Kerala you'll spend a night aboard a traditional houseboat - it's the perfect way to explore the backwaters.
What sort of transport do you use?
For the most part you'll be travelling in comfortable, private vehicles with air-conditioning. The size of the vehicle depends on the group size with either mid-size people carriers or larger coaches. There will also be the chance to experience more local forms of transportation including a rickshaw ride in Delhi and a houseboat ride in Kerala.
When is the best time to visit India for general sightseeing?
India is a big country and the climate varies dramatically from north to south though the dry season is by far the best time to visit. The months of October to February are ideal as rainfall is minimal in most parts of the country, which makes sightseeing much more pleasurable. For more info on the weather, have a read of our
Best Time to Visit India
page.
Discover India's best kept secrets
Authentic Experiences Abound
Our local guides are experts at seeking out hidden gems. From rickshaw rides through spice markets to spending the night at the Maharajah's palace in Karauli, our trips certainly veer from the beaten track.

And you'll want to explore India on your own terms, too. That's why, with our group tours, you'll have plenty of personal time to create your own memories. So whether you're looking to meet like-minded new friends, or enjoy authentic Indian experiences - with On The Go Tours, you're in good hands.
Highlights of our India holidays
Our tours are expertly crafted to help you see the best of India, from the Golden Triangle to the Himalayas. As well as all the main sights of the country, our excursions give you the chance to get stuck in and experience India like the locals do.
The very essence of India and one corner of the Golden Triangle. Experience the unique mix of old and new and discover the fascinating history of Jaipur. Find a tour.
A feat of jaw-dropping design and architecture, witness the beauty of the Taj Mahal at sunrise or sunset.
Find a tour.
A once-in-a-lifetime chance to spot Shere Khan, in the exotic Ranthambhore National Park. Find a tour.
Our festival tours offer you the chance to embrace the vibrant Indian culture and celebrate Diwali or Holi Festival.
Find a tour.
Exciting Days, Comfortable Nights
Our Signature group tours place local interaction and authenticity at the heart of your travel experience.
For our Signature range, we maximize your days with excitement and then bring you home to specially selected accommodation with extra character, convenience and comfort, whether that's a five-star river boat on the Nile or a traditional Japanese Ryokan. Accommodation in this range features comfortable western standards, air-conditioning, WiFi and, where appropriate, a swimming pool.
On a Signature holiday, you'll be escorted throughout your trip by our qualified English-speaking local guides who'll show you all the must-see attractions and even the lesser-known sights.
To further add to that special touch, the group sizes in our Signature range are mid-sized: small enough to be intimate, but large enough that you can bond with new friends over common interests.
Tailored To Suit You
On our Tailor-made trips, we give you the flexibility and choice to do things just the way you want, all alongside the great service we're famous for.
Whether you're travelling solo, with a partner, family, extended family or as group of friends we'll customise your arrangements to suit your exact needs and budget. Our Tailor-made trips are designed for your needs and you don't have to join other travellers like you would on a group tour. Just tell us what you'd like to see and when you'd like to go, and we'll design the perfect holiday for you.
The Tailor-made itineraries we've suggested are designed to give you an idea of what you could do with us, they can be booked as they are, or adapted to suit you. If you'd like to change any aspect of the trips you see, please get in touch. If you aren't quite sure of what you want to do, that's no problem either! One of our experienced travel consultants can make suggestions then together you can tweak until it's the perfect fit.
